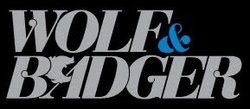 Samir and I have talked about how rewarding and satisfactory it is to mentor many talented designers at Wolf & Badger, so for us to be mentored by some of the leading figures in British business is fantastic
(PRWeb UK) June 4, 2010
Cutting-edge lifestyle brand Wolf & Badger has had the honour of being announced as one of the Walpole "Brands of Tomorrow" for 2010. The Brands of Tomorrow scheme is a bespoke mentoring and coaching program designed to support up-and-coming British luxury brands in becoming world-class leaders in their respective field.
Wolf & Badger were selected despite being in business for only three months, compared to brands that have been trading for up to 27 years. They were selected alongside Basso & Brooke, Charlotte Olympia Shoes, Mawi Jewellery, Rococo Chocolates, Josephine Home and Abahna.
Founders Zoe Knight and Samir Ceric will be mentored by Walpole chairman John Ayton as well as author and doyenne of luxury journalism Lucia van der Post for the next year, covering every aspect of running a luxury brand.
"Samir and I have talked about how rewarding and satisfactory it is to mentor many talented designers at Wolf & Badger, so for us to be mentored by some of the leading figures in British business is fantastic," says Zoe Knight, co-founder and creative director of Wolf & Badger.
"We wanted to become mentors in our own right, helping and guiding all of the amazing talent we've come across in the last nine months during the selection process. Now we're ready to take Wolf & Badger to the next level, and are grateful to have such industry heavyweights as John and Lucia behind us" said co-founder and business director Samir Ceric.
Off the back of their Walpole Brand of Tomorrow nod, Wolf & Badger are launching their inaugural Graduate Design Awards, giving three lucky designers in the fields of fashion, jewellery and product design the chance to present and sell their winning collection at the Wolf & Badger flagship design and fashion boutique in Notting Hill for three months, receiving business and mentoring advice during this period from the Wolf & Badger co-founders Zoe and Samir.
About Wolf & Badger:
Wolf & Badger is a unique lifestyle brand that creates innovative retail spaces and provides the necessary support services to showcase and sell the best fashion and design talent from the UK and beyond. The Wolf & Badger boutique opened in February 2010 in London's Notting Hill and has been the subject of much critical acclaim since its inception. Recently named one of Britain's best boutiques 2010 by British Vogue, the Wolf & Badger boutique has now firmly made its mark on the British retail scene. Wolf & Badger now also operates an e-commerce platform on its award-winning website - http://shop.wolfandbadger.com
Contact Information:
Samir Ceric, Director
Wolf & Badger
46 Ledbury Road, London W11 2AB
Office: 020 7229 4848 begin_of_the_skype_highlighting              020 7229 4848      end_of_the_skype_highlighting
Shop: 020 7229 5698
Mobile: 07912 603 378
Fax: 020 7792 9697
http://www.wolfandbadger.com
###