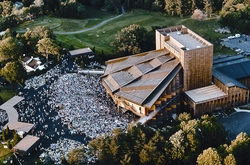 Vienna, VA (Vocus) May 8, 2010
Wolf Trap Foundation for the Performing Arts announces its full Summer 2010 season, boasting a record-breaking 107 performances, including 33 debuts presented at the naturally wooded, picturesque outdoor Filene Center amphitheater. Rounding out the season are four high-profile shows from some of the biggest names in pop music—Counting Crows, Harry Connick, Jr., Jackson Browne, and Abba—The Music. Tickets for these shows will be available this Saturday, May 8 at 10am.
The Summer 2010 lineup at the Filene Center offers an eclectic mix of D.C.-area favorites and highly anticipated Wolf Trap debuts including:
POP HEADLINER or CO-HEADLINER DEBUTS (8) - State Radio, REO Speedwagon, Crowded House, Alejandro Sanz, War, Counting Crows, Rodrigo y Gabriela, and Golden Dragon Acrobats from China
MUSICAL DEBUTS (3) - Cats, Mamma Mia!, and Legally Blonde—The Musical
OPERA DEBUTS (3) - Zaide, The Turk in Italy, and A Midsummer Night's Dream
NATIONAL SYMPHONY ORCHESTRA DEBUTS (5) - Distant Worlds: Music from Final Fantasy®, The Music of James Bond w/ conductor-Carl Davis, The Planets in HD! (featuring new images from NASA),
Bugs Bunny at The Symphony (featuring different cartoons), and Idina Menzel & Marvin Hamlisch
SPECIAL GUEST OR SUPPORT DEBUTS (14) - Imelda May, Procol Harum, Sly & Robbie, Angus & Julia Stone, Colbie Calliat, Keaton Simons, Honor by August, Lukas Nelson, Lawrence Arabia, Augustana, Ryan Bingham, Christian Scott, Needtobreathe, Xavier Rudd and David Lindley.
In addition to Filene Center performances, a combined 82 shows will be presented at The Barns at Wolf Trap and Children's Theatre-in-the-the Woods at Wolf Trap. The Barns presents 12 unique performances from the internationally renowned Wolf Trap Opera Company, with brand new productions of full-length operas Zaide, The Turk in Italy, and A Midsummer Night's Dream, supplemented by two recitals arranged by GRAMMY award-winning pianist and artistic visionary Steven Blier in Latin Days, American Nights, and Invitation to the Dance. For a comprehensive list of opera productions dates, and ticket prices please visit: http://www.wolftrap.org/en/Opera.aspx.
Wolf Trap's Children's Theatre-in-the-Woods launches its season on June 29, wrapping on August 14, and features several new artists and acts, including Hayes Greenfield's Jazz-A-Ma-Tazz, a one-of-a-kind, interactive introduction to jazz, Milkshake, "a band on a mission to create great rock music for kids," and PROJECT Trio, a high-energy chamber music ensemble that blends the sounds of hip-hop, classical, and popular music. The full schedule of Children's-Theatre-in-the-Woods performances can be found at http://www.wolftrap.org/en/Education/Childrens_Theatre-in-the-Woods.aspx
Recently nominated by fans as Best Outdoor Venue in Washington City Paper's "Best of D.C. 2010," Wolf Trap continues to offer an experience unmatched by any metro area competitor. Boasting a convenient location right off the Dulles Toll Road, free parking, a bring your own food and drink policy, highly affordable pricing, an on-site restaurant, and tickets free of service charges available at the venue box office, Wolf Trap offers a unique family friendly experience.
*Sheryl Crow is sold out.
**With the exception of Counting Crows, Harry Connick, Jr., Jackson Browne, and Abba—The Music, all shows were included in previous 2009–2010 on-sales. For press releases surrounding prior show announcements including Wolf Trap Opera Company and Children's Theatre-in-the-Woods, please visit http://www.wolftrap.org/Home/Media_and_Newsroom.aspx**
***Visit http://www.wolftrap.org for a full list of performances, dates, descriptions, pricing, video, updates and additions to the schedule***
Tickets for Wolf Trap's 2010 performances can be purchased via the Wolf Trap Box Office located at Wolf Trap National Park for the Performing Arts at 1551 Trap Road, Vienna, Virginia; by calling 1 (877) WOLFTRAP; or online at http://www.wolftrap.org. For more information, please call Wolf Trap at (703) 255-1868.
Contact:
Graham Binder (703) 255-1917
Melissa Chotiner (703) 255-4096
###