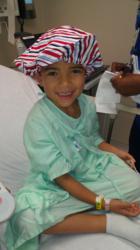 The patient's mom was so grateful that she could travel to Jacksonville for her son to have this procedure.
Jacksonville, Florida (PRWEB) June 21, 2013
Nemours Children's Clinic pediatric otolaryngologist Gary Josephson, MD, sees his share of unusual cases in his specialty. He has become an expert in performing a number of minimally invasive procedures for small children, including one to remove salivary gland stones.
Called a sialendoscopy, the procedure was first performed in Europe and only recently brought to the United States to just a few centers. The procedure is used in adults with salivary gland stones. These stones, while very small, can lead to neck swelling, mouth pain, and in the worst cases, neck infections.
Because of a child's much smaller anatomy, removal of a tiny stone from a very small gland in the neck that drains your saliva through a tiny duct opening in the mouth is difficult. Before this minimally invasive procedure was available, a salivary gland stone in a young child would require removal of the entire gland through a one- to one-and-a-half inch incision in the neck that is near critical structures, such as the nerves that control the lips and tongue. The open surgical procedure, still performed at most children's hospitals in the U.S., is more invasive, leaves a scar, requires a two-day hospital stay, and there is more recovery pain.
With the minimally invasive sialendoscopy procedure available at Wolfson Children's Hospital, Dr. Josephson enters the duct and gland at the entrance in the floor of the mouth using a small a 0.8mm diagnostic scope with a very tiny camera. He then uses a slightly larger 1.1 mm scope with a working port which allows instruments that include a grasper used to grab the stone or another instrument to grind the stone into smaller pieces; the stone or fragments are then placed into a tiny metallic wire basket for removal, or once broken up are flushed out of the duct and gland. Very few surgeons in the country are experienced in this procedure, particularly in young children.
Boy from West Palm Beach has sialendoscopy for salivary gland stone
When Johnna Venuti-Piggee's six-year-old son Jayson began complaining of severe pain and she noticed swelling the size of a ping pong ball under his jaw last August, she was concerned. The swelling subsided within an hour, so when she took him to the doctor, there were no symptoms. An ultrasound revealed nothing but a swollen lymph node. Blood work showed nothing unusual.
"In January, it started happening more frequently, even at school, and Jayson was screaming with pain," says Johnna. "I took him to an ENT here named Dr. Ira Stein and he ordered a CT scan in February. That's when he saw the salivary gland stone." Dr. Stein referred Jayson to a pediatric ENT in South Florida, who recommended the open procedure of removing the entire gland through an incision in Jayson's neck under his jaw.
Johnna decided to do research to find out if there was another, less invasive option. She Googled "pediatric sialendoscopy" and found information on the sialendoscopy procedure performed by Dr. Josephson at Wolfson Children's Hospital. Dr. Josephson is one of only a few doctors in the country to perform sialendoscopy procedures on children; he's been doing the procedure since 2010.
"I called Nemours Children's Clinic in Jacksonville and was able to get an appointment pretty quickly with Dr. Josephson," remembers Johnna. "Even though Jacksonville is a long way from home, it's better than having to travel to Pittsburgh or Minnesota for this procedure."
After a consult at Nemours with Dr. Josephson, Jayson's surgery at Wolfson Children's Hospital was scheduled for May 13.
"Dr. Josephson kept me informed during the whole procedure, and after," says Johnna. "He came to see Jayson while he was in recovery, the next day, and then we saw him for our final appointment before we headed home. He called personally to check on his at home, too. You can tell he really cares."
Jayson's experience at Wolfson Children's was fantastic, too, she said. "You could tell you were in a children's hospital. It's not a place for nurses who are grumpy. You can't have a bad day if you work in a children's hospital because kids and their parents are going through something traumatic and life-changing, and the staff has to be there to be supportive of them. Wolfson is a special place."
Johnna said Jayson recovered quickly and has no more pain or swelling. He is completely healed.
Dr. Josephson says, "Johnna was so grateful that she could travel to Jacksonville for Jayson to have this procedure. We're happy we are able to provide this level of care to children with a number of medical conditions of the ear, nose and throat, from the routine to the complex."