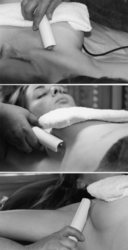 My breast have been sore and tender for years, and it only got worse with my period. After one treatment of Lymph-Biologics™ I could feel a tremendous difference. The painful tenderness went away. Thank you Dr. Friedman Bernadette Abaya,RN
(PRWEB) June 18, 2010
More than 60% of women suffer from Fibrocystic breast condition, which causes "lumpy breasts" and discomfort? Women can now take action. Announcing a simple and painless treatment to fight the pain and discomfort associated with cystic and fibrous breasts.
Renowned health care practitioner, Dr. Loretta T. Friedman, has introduced Lymph-Biologics™--a revolutionary treatment that can immediately alleviate the pain and discomfort of cystic and fibrous breasts, as well as other breast related issues. Lymph-Biologics™ targets the breast area to promote successful drainage of toxins via the body's lymphatic system, using the latest technology, including a three part light wave. This unique treatment is simple, quick and painless: a small wand, which emits pulses of light waves, is moved non-invasively across the breast and chest area. The light waves break up and move lymph blockage, toxins and fluid.
A healthy lymphatic system promotes overall health and energy. Blocked lymph nodes can lead to a breakdown in the performance of the lymph system, and consequently, a breakdown in the functioning of the immune system. One result of blocked lymph nodes is stagnation of fluid in the breast area. This may significantly increase the risk of breast problems, such as breast pain and swelling associated with menstruation, heavy breast sensation, and cystic and fibrous breasts. After the Lymph-Biologics™ treatment, drainage sites are opened and the natural flow of the lymph through the breast and body is stimulated. But the benefits aren't limited to the breast and chest area. Effective lymphatic drainage will strengthen the body's immune system, and increase stamina and vitality.
The Lymph-Biologics™ technology is designed to get superior results in less time with less stress on the body than previous methods of lymphatic draining. For example, the deep pressure applied during manual lymphatic drainage massage can actually collapse the lymphatic vessels, therefore reducing drainage and allowing toxins to accumulate. After one Lymph-Biologics™ treatment you can feel and see visible results.
Women can now boost their immune systems and overall health by actively encouraging a healthy lymphatic system. The new Lymph-Biologics™ treatment offers an immediate solution for effective and safe breast care.
For more information or to try Lymph-Biologics™ yourself, call 212-243-5515
Contact: Dr. Loretta T. Friedman
Synergy Health Associates
80 Fifth Ave. Ste 1204
New York, NY 10011
212-243-5515
Synwell(at)gmail(dot)com
###