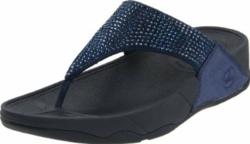 FitFlop is new to Shoes on Solano this spring and summer
Berkeley, CA (PRWEB) May 15, 2012
Shoes on Solano, Berkeley's premier shoe store for comfort shoes, women's footwear and kid's shoes, will be holding its FitFlop Footwear Trunk Show on May 18 in its newly expanded shoe shop. During the event, those making purchases of FitFlop women's shoes will receive a free gift. There will be refreshments, a raffle for a free pair of FitFlops and customers will have the opportunity to meet with a company representative.
"FitFlop is new to Shoes on Solano this spring and summer," said Carol Fabretti of Shoes on Solano. "This introductory FitFlop Footwear Trunk Show is part of our expansion at our new location, 1770 Solano Ave."
FitFlop has grown phenomenally in the years since its inception in 2007. FitFlop was created by Marica Kilgore, the founder of Bliss Spas worldwide, by recognizing that women needed great looking, easy, simple and straight forward, energizing footwear in their multi-tasking lives. Kilgore took new clinical technology with remarkable underfoot-pressure diffusing and shock attenuating properties, and designed it into a footwear collection- the concept was a phenomenal and global success! The FitFlop footwear fans began to send feedback detailing how fantastic FitFlop made them feel. FitFlop creates fun, energizing, and beautiful shoes that, when you wear them, make you feel like you've got the world at your feet. FitFlop is designed for everyday use and walking, to be worn by women who want to make sure they get 'energized while they walk'.
"The styles we currently carry include Rokkit, Frou, Walk Star, Hooper, and Sling in multiple colors, with new sneaker styles arriving for the Trunk Show," Carol added.
Visit Shoes on Solano at 1770 and 1774 Solano in Berkeley. For more information about Shoes on Solano and its products, call 510-926-6051, 510-525-3832 or go online at http://www.shoestoreberkeley.com/.
About Shoes on Solano
Stop by the East Bay Shoe Store in Berkeley today for the latest styles in women's shoes, kids' shoes, casual shoes, dress shoes, and comfort shoes. The store always looks forward to having everyone shop local and appreciate the support of Berkeley businesses. Shoes on Solano is a fashion shoe retailer serving Berkeley and surrounding East Bay communities and beyond.