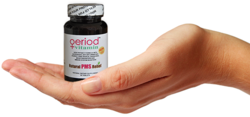 It's this kind of promising research that inspires the makers of Period Vitamin to continue searching for the best natural ingredients to add to their PMS supplement.
Los Angeles, CA (PRWEB) September 30, 2012
When it comes to treating period pain, most women have relied on over-the-counter pain medication or even prescription pills to make it through a menstrual cycle. However, promising new research from a bevy of respected universities have indicated that Mother Nature's bounty may be just as effective to stop period pain.
Period Vitamin, a natural period pain reliever that has just been launched, has summarized these findings. Since Period Vitamin contains a number of these vitamins, herbs, and minerals, the makers of Period Vitamin want women to see how effective a natural alternative can be at getting rid of period cramps, ending period bloating, and relieving period back pain.
"Women deserve to know that Mother Nature can be just as effective at relieving period pain, if not more so," says Period Vitamin co-founder Uka Tumur. "Depending on pharmaceutical drugs and over-the-counter pain medications aren't often a smart long-term solution for dealing with PMS.
"Period Vitamin, on the other hand, contains a number of safe and effective vitamins, minerals, and herbs, all of which are backed by research from top universities around the world," she adds.
Many of the top ingredients in Period Vitamin have been the subjects of thorough PMS research. For example, a study conducted by JoAnn Manson, chief of the Division of Preventative Medicine at the Harvard-affiliated Brigham and Women's Hospital, showed that Vitamin D can treat inflammation-related pain syndromes, including menstrual cramping.
Another main ingredient in Period Vitamin is black cohosh, which is a plant estrogen that has been used for thousands of years to treat period pain. A recent report by the University of Maryland Medical Center revealed that black cohosh can treat a number of menopausal symptoms, including period bloating, cramping, back pain, and fatigue.
Other ingredients in Period Vitamin have been touted by universities across the world. As the name suggests, Period Vitamin contains a number of essential vitamins that act together to help revitalize the body and restore a woman's natural balance during her menstrual cycle.
Researchers from Harvard University and the University of Iowa recently conducted a joint study to investigate the power of vitamins in treating period pain. The groundbreaking study revealed that supplements high in B vitamins thiamine and riboflavin – also known as vitamins B1 and B2, respectively – can reduce or even eliminate emotional symptoms associated with a woman's menstrual cycle. This can include fatigue, moodiness, irritability, and even anxiety.
It's this kind of promising research that inspires the makers of Period Vitamin to continue searching for the best natural ingredients to add to their PMS supplement.
"As new studies are revealed everyday, we're determined to take this invaluable research and apply it to our PMS supplement," Tumur points out. "By continuing to keep abreast of these exciting developments, we can truly offer our customers the most comprehensive natural period pain relief possible."
In addition to providing women with a bevy of natural ingredients for battling period pain, Period Vitamin supplements are supplemented by free bonuses, discount savings, and other benefits. These materials provide customers with a comprehensive and holistic outlook on how healthy living habits – including eating right, exercising, and enjoying fun activities with family and friends – can help battle PMS.
"Too many women feel like they've been imprisoned by their PMS symptoms," says Tumur. "By developing Period Vitamin, we want women to know that they can glide right through their menstrual cycles without having to rely on toxic prescription medications and experience over-the-counter pain pills."
About Period Vitamin:
Period Vitamin was created in insert year by a team of holistic experts with many years of experience in research the highest quality herbs, vitamins, and minerals. The makers of Period Vitamin are driven by a single goal: to provide women with the ultimate period pain relief they need to lead fulfilled and happy lifestyles. By providing women with high-quality PMS supplements, the makers of Period Vitamin are helping women live a fulfilling and active lifestyle, free from PMS pain. Experience what Period Vitamin is all about at PeriodVitamin.com today.
Contact: PeriodVitamin.com/contact.html
Email: CustomerService(at)PeriodVitamin(dot)com
http://www.periodvitamin.com