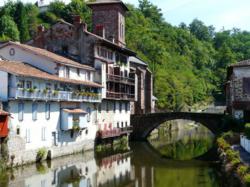 This part of France is rich in history but often overlooked by American tourists
Tucson, AZ (PRWEB) May 03, 2012
Gateway Destinations re-introduces a women-only guided tour to the Basque region of southwestern France. Visit the church where King Louis XIV of France married Maria-Teresa of Spain, a delicious chocolate museum and unusual seaside castle. Explore the inviting surrounding countryside, full of charming villages, sheep farms and hostels where pilgrims cluster along two pilgrimage routes traversing the French Basque region.
See modern-day pilgrims follow the Santiago route in St. Jean Pied-de-Port, France's gateway in the Pyrenees Mountains to Spain. Another French pilgrim route meanders along the Atlantic Coast into Spain as it makes its way to the church in Santiago, Spain. Most pilgrims do this journey on foot, while others ride horses, bicycles or drive along the route.
"Come to the Basque country to experience another side of France," suggests Eric, local bilingual guide for Gateway Destinations. He continues by saying, "This part of France is rich in history but often overlooked by American tourists, which is a missed opportunity."
Jan Acorn, owner/operator of Gateway Destinations, is committed to seeking destinations for its clients that are unique and incorporate off-the-beaten path experiences. This tour, designed especially for women, is distinctive in style and will introduce guests to a lesser-known area to Americans.
For further information about Gateway's Pays Basque & French Pyrenees tour, or other custom tours, contact Jan Acorn with Gateway Destinations, 888-429-1242. You may also visit their website at http://www.gateway-destinations.com.
About Gateway Destinations
Gateway Destinations, LLC, provides custom travel planning services for individuals, couples and small groups to Alaska, Hawaii and foreign destinations, specializing in travel to Europe. In addition, Gateway creates custom small group tours (escorted or unescorted) and specializes in guided tours for women.