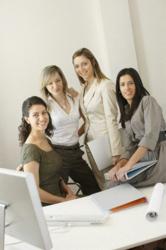 I'm more focused in planning and following through and effective in what I'm doing
(PRWEB) October 09, 2012
In honor of October's National Women's Small Business Month, Marketing and Mindset mentor Simone Mitjans, is offering free one-on-one business coaching to anyone who refers 10 friends to her November Boot Camp. This free private session is valued at approximately, $11,000 and will be offered to each person who brings 10 friends to the November Boot Camp. The camp trains women entrepreneurs how to attract the clients they want and break free from their current business development plateau. Women who own their own business and would like to not only get more clients, but get the right kind of clients (the clients who say "yes"), are encouraged to sign up today by registering on her website. Classes are available at 1:00 p.m. or 5:00 p.m. EST starting Nov. 5, 2012.
"Over a 12-week period, you and ten of your friends will be taken through a supportive and encouraging virtual classroom that covers all nine steps of the Attract 'Yes!' Clients System," says Simone. "It is a supportive, high-energy, aligned group of like minded professionals."
The goal is to help women raise their income, manage their energy and time and take their business to the next level. Simone's previous Boot Camp participants rave about her ability to produce tangible results. Previous sessions have been so successful that attendees continuously offer their testimonials encouraging other women to give the Boot Camp a try.
"I was stuck packaging, pricing and marketing my services but now I have everything in place," Patti Singer, founder and CEO of http://www.BesttoFollowMe.com . "Fears of putting myself out there because of possible rejection and of not trusting myself to stay interested or committed are diffused in love. I'm more focused in planning and following through and effective in what I'm doing, which helps me save time for my family. I am standing taller and leading with my heart, engaging my whole self. I would absolutely recommend Simone to all entrepreneurs who feel stuck, unable to feel fired up in their businesses or somehow held back from effortlessly releasing their marketing like wildfire."
These Boot Camps are also a way to gain the same insight as Simone's private clientele, but at a reduced cost. Her coaching has made measurable differences in her clients' lives because she throws out the notion that there is a one-size-fits-all solution to growing a business and finding a healthy balance in a happier life. Boot Camp attendees will love coming to this realization as well, and seeing the benefits of their inner discoveries immediately.
About Simone Mitjans LLC:
Marketing and mindset coach Simone Mitjans is a leader in business transformation and a mentor for passionate women entrepreneurs from around the world. Her "Attract YES Clients" programs serve women who want to attract more clients, increase revenues, and enjoy more freedom to live an amazing life while making a difference. As a conscious business expert, Simone creatively integrates practical marketing strategies and mindset principles, including her energy signature assessment service, in her mentoring and coaching programs for high-level success. Her mission is to empower women to be a force of change on the planet, by helping them to follow their dreams and build a meaningful and profitable business. Her Twitter handle is @SMitjans.