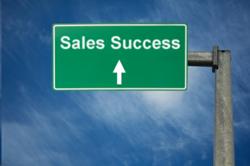 For some reason, new sales are one of the most common problems for women entrepreneurs.This event will address that.
(PRWEB) April 11, 2013
Simone Mitjans, marketing and mindset mentor, is hosting a free virtual event on April 18 and again on May 9 for all women entrepreneurs who want to make sales with confidence. The event will take place online this month and next month. Anyone who signs up to receive Simone's email newsletter will be invited to attend at no cost. The goal of the event is to bring to light the problems preventing women business owners from approaching their new sales correctly – and then showing how those problems can be reduced or eliminated.
The visible and traceable results for attendees will include:

More phone calls made per month
More prospective client leads
Better quality clients
More satisfied clients
Fewer heart palpitations when doing sales calls or meetings
"For some reason, new sales are one of the most common problems for women entrepreneurs," says Simone. "When these women are asked about what they do for their clients, they have wonderful stories to tell. But when asked what they could do for a prospective client, or worse, asked to pitch their services or products to a new client, they freeze up or become shy and timid. This event will address that behavior."
Using her own customized energy signature system to delve into her clients' profiles, Simone unearths pain points, but she doesn't stop there. Simone leaves each of her clients with a measurable take-away they can apply to their business immediately. While the root cause of female entrepreneurs' frustrations in new sales might be intangible, Simone promises that the results her clients have seen are very real.
Simone states that some women, even her previous clients, have admitted to avoiding sales interactions because they did not want to appear as a braggart or come across as over-confident. This free event will help women business owners understand the difference between being confident when making a sale versus being sales-y.
About Simone Mitjans LLC:
Marketing and mindset coach Simone Mitjans is a leader in business transformation and a mentor for passionate women entrepreneurs from around the world. Her "Attract YES Clients" programs serve women who want to attract more clients, increase revenues, and enjoy more freedom to live an amazing life while making a difference. As a conscious business expert, Simone creatively integrates practical marketing strategies and mindset principles, including her energy signature assessment service, in her mentoring and coaching programs for high-level success. Her mission is to empower women to be a force of change on the planet, by helping them to follow their dreams and build a meaningful and profitable business.