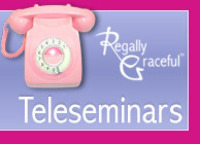 London, UK (PRWEB) June 12, 2008
Regally Graceful™ Teleseminars launches a new weekly series, starting Tuesday, June 17th, of free, educational dial-in phone calls and podcast interviews that address the common issues of our daily lives with a spiritual perspective, a practical outlook and professional experience. It offers inspiration and unique information in a private and a globally accessible way for everyone who seeks more contentment from integrating the lifestyle they want into their life.
"A lot of the simple, practical wisdoms that help us live healthy, balanced and prosperous lives are being forgotten in the hustle bustle of the modern world. I've taught this stuff for years, person-to-person and have watched it dramatically improve lives. Now, through the new medium of teleseminars and podcasts we can now offer this knowledge globally to all men and women who seek a better lifestyle," says the founder of Regally Graceful™, Guru Kaur, a London-based spiritual adviser, business consultant, and leading teacher of Kundalini Yoga.
Themes in the new series include:

Sleeping better naturally
Running a successful home-based business
Enjoying family and excelling professionally
Tips for staying married from a top US divorce attorney
Supporting your spouse while living you own life
Losing weight, staying trim and improving your health eating naturally and easily
Guests for the new series of Regally Graceful™ Teleseminars are chosen for the expertise demonstrated in the lives they live and services they render and for the their insights into better solutions to traditional challenges. They are free to attend live or to listen to via podcast recording to all who sign up at http://www.regallygracefulteleseminars.com.
Upcoming guests include:
1. On 17th June, Caroline Bodger of White Cloud Trading
Caroline set up her highly successful internet business with her husband several years ago from her home, selling wool duvets from New Zealand -- all because her infant son was unable to sleep, crying all night. When she discovered that pure wool bedding solved the problem she wanted to share it with the world
2. On 24th June, Katrina Burnett of Finchcocks
Katrina has supported her husband's music career and his passion for pianos, by setting up with him Finchcocks, the only working museum of pianos in the world, while still continuing in her profession as a playwright. Her one-woman play on Queen Victoria, especially written for Prunella Scales, has received 100s of performances worldwide.
3. On 1st July Lyndon Gee, food expert and ambassador for Slow Food
The Slow Food movement teaches the value in home cooked and locally sourced food not just in terms of physical health but also mental well-being and the economical stability. Lyndon is a renowned chef, food writer and a key figure the Slow Food movement.
4. On 8th July, top Florida-based divorce lawyer Holly Fulton of Head, Moss & Fulton
Holly's ethos is to get the divorcing couple to focus on what is the best possible outcome for the children and to work towards that using collaborative law techniques where the lawyers work with each other not against each other. Holly has seen the ending of many marriages and has a wealth of information to share about how to keep marriages happy and healthy.
For more information and to sign up for free, visit http://www.regallygracefulteleseminars.com
About Guru Kaur & Regally Graceful™
Guru Kaur embodies spiritual values, a professional background and an English upbringing. She is renowned for giving very straight talking guidance in highly practical terms giving people unique insight into their challenges through which they can make decisions that avoid repeating mistakes of the past. She is equally well versed in the issues surrounding big businesses as she is in those of daily personal life and serves to remove the divide between the two. She is a leading Kundalini Yoga teacher, a Sikh Minister, and trained as a Chartered Accountant before working in Banking and then running her own business as a designer. For more information please visit http://www.gurukaur.com.
Regally Graceful™ was founded by Guru Kaur as an outlet to teach the common wisdoms of antiquity that have been so important to the success and happiness of her life. These teachings are full of practical, common-sense advice that is sadly no longer so common. In January 2008, Regally Graceful™ successfully launched the online course and social community Be the Woman You were Born to Be... For more information, visit http://www.be-the-woman.com
###