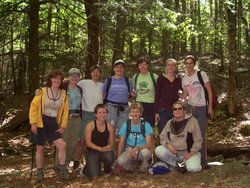 Southington, CT (PRWEB) March 19, 2009
On March 20, women outdoor enthusiasts can celebrate not only the first day of spring, but also the rollout of a brand new web site. Women Outdoors, a national, nonprofit organization that promotes leadership, friendship, adventure and enjoyment, created WomenOutdoors.org; a way for women to connect with other women who share their outdoor interests and values.
Check out the completely renovated WomenOutdoors.org web site, and here are some of the features you'll find: professionally designed graphics, photos by Women Outdoors members, lots of new content, and easy navigation. Here's a quick tour of WomenOutdoors.org.
The About Us section describes the history of Women Outdoors, how we're organized into regions, how we're managed by a board of directors, and the principles we value as an organization.
Our Regions offers a brief description of each of our nine regional chapters. Click on any of those chapter links and you'll open up that region's own web page filled with photos, links to their calendar of activities, special events, news, and a photo gallery.
The Gathering page offers loads of information about our annual get-together over Memorial Day Weekend in New England. The Gathering brings together new and old members from across the country gather for a long weekend of outdoor experiences where women can have fun and challenge themselves in a safe and nurturing environment. With the new web site, for the first time ever, you'll be able to register and pay for the Gathering online.
Click on Latest News for press releases about what our national organization is doing as well as updates from the regions. You can also subscribe to an RSS feed so you'll know as soon as anything new is posted.
At Women Outdoors we want to share our love of the outdoors and the organization that helps us nurture our nature. The Resources page offers information such as Women Outdoors trip guidelines and Leave No Trace guidelines as well as links to other web sites of interest organized into categories such as clubs and organizations, adventure travel, outdoor gear, and other helpful information.
We anticipate that after exploring our web page, many women are going to want to explore membership in Women Outdoors. To make that as easy as possible, we have a special Join Us page where women can click a few buttons, fill in a few fields, pay online and become a new member of Women Outdoors.
An all-volunteer organization founded in 1980, Women Outdoors sponsors nine regional chapters on the East Coast, which organize activities such as hiking, biking, canoeing, kayaking, rafting, climbing, skiing and snow shoeing. Women Outdoors hosts regional chapters in Connecticut, the greater Boston area, western Massachusetts, Rhode Island/Southeastern Massachusetts, New Hampshire/Vermont, the Finger Lakes Region of New York, Albany, NY, the Mid-Atlantic and South Florida.
Add to Favorites: http://www.WomenOutdoors.org
###