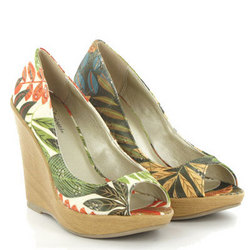 City of Industry, CA (PRWEB) May 13, 2008
Get ready to start baring those long beautiful legs, well-sculpted arms and shoulders, flawless back and oh-so-perfectly sexy feet, as summer will soon be making its rounds again and displaying its warm golden sunshine on the populace. As they say, it's never too early to get ready especially with the summer season's best buys in women's shoes.
Online women's shoes retailer MakeMeChic.com is already giving a sneak peek of the latest summer collection of women's shoes. Topping the list of definite must haves in women's shoes are jungle print pumps and wedges, glistening Gladiator flats, and colorful sling back sandals. All these hot fashion finds in women's shoes will surely bring the heat on come summertime.
A company most loved by women, MakeMeChic.com is considered a ladies best online shopping partner. The company is known for coming up with the latest and hottest trends in women's shoes today. Known for its keen eye for what is the hippest in women's shoes, MakeMeChic.com constantly keeps itself abreast with the latest designs, all year round.
Another reason women love MakeMeChic.com is that their trendy products, including the latest women's shoes, are already offered at prices way below its competitors. The company continues to support women who have the fixation in getting the latest designs in women's shoes. As a tribute to shoe fanatics out there, buying women's shoes and other products directly from the company's web store can get one to save more and even receive free ground shipping for orders over $50 (Coupon Code - "2008").
For loyal customers of MakeMeChic.com, women can also decide to use the VIP Saving Code (Code: VIP080174) to receive a 10% discount on any purchase. This, however, cannot be offered with the free shipping promo, on sale items, and any other ongoing promos.
Find out more of the latest happenings in women's shoes at MakeMeChic.com. By simply signing up to be included in their newsletter, shoe fanatics will constantly be informed and reminded of the latest arrivals, promotions, and trends in women's shoes.
About MakeMeChic.com
MakeMeChic.com is every woman's partner when it comes to fashionable finds. Based in the City of Industry, CA, MakeMeChic.com is an online store that specializes in trendy women's shoes and apparel. With over 50 latest styles of women's shoes and apparel arriving weekly, a woman will never be out of style.
###