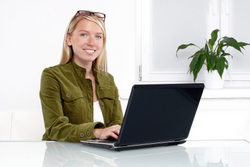 This is a natural partnership. Both organizations are committed to assisting women in technology to build successful and satisfying careers
London, UK (PRWEB) July 7, 2009
Women in IT positions often find themselves isolated and unable to access the information they need to further their career development. To address this issue womenintechnology.co.uk and Krissy Jackson, The IT Girls Career Coach have partnered to provide further training opportunities via webinar for women all around the Globe.
"This is a natural partnership. Both organizations are committed to assisting women in technology to build successful and satisfying careers". "Partnering with the IT Girls Coach and adding webinars to career training course options is helping to dramatically extend the reach of womenintechnology.co.uk," said Sarah Lilley the Events & Training Co-ordinator. "This month's featured webinar already has 280 registrants from four continents."
For those unfamiliar with this technology, a webinar (short for web-based seminar) is a presentation or workshop that is transmitted over the web. The benefit of webinars over telephone conferences is that as well as hearing the discussion, participants can see visual aids and presentations and download handouts. A key feature of a webinar is that it is interactive, so people can give, receive and discuss information.
The most important feature of a webinar, is that participants can be anywhere, as long as they are in front of a computer with internet access. They don't have to be in London or even the UK. They can call in or VoIP from anywhere in the world and participate in professional workshops from the comfort of their own desks. It also means participating in training without having to add on travel or accommodation costs, which in the current economic climate, is a real bonus.
Topics covered in the webinars are often very complex, and so one of the perks of providing training in this format is that it is recorded in real time and available for participants to review, along with the presentation materials, at a later date.
Another consideration for presenting via webinar, is that workshops planned for the coming months cover many issues that require a certain amount of sensitivity. For example; job exit strategies, promotion, interview advice, how to deal with difficult people in the office, setting boundaries and confidence building. "Using webinar technology womenintechnology.co.uk and the IT Girls Coach are able to facilitate these presentations, and at the same time, offer complete anonymity to workshop participants."
To learn more about these training opportunities, and other offerings, visit womenintechnology.co.uk or The IT Girls Coach
About womenintechnology.co.uk:

Started in 2005 with one goal in mind: to help women build successful and satisfying careers in the IT industry.
Host and co-host regular networking events, both formal and informal, for female IT professionals to meet and discuss the issues facing the industry.
Offer in-depth information about the industry, including further career training courses available and the latest news and analysis.
womenintechnology.co.uk also work with companies and job seekers.
About The IT Girls Coach:
Having earned her Certified Professional Coach (CPC) designation from the International Coach Academy and her Associate Certified Coach (ACC) from the International Coach Federation, Krissy Jackson, an accomplished facilitator, went on to work as a team leader/coach for several well-known signature-coaching programs. Since 2006 she has specialized in working with women in IT, concentrating on the areas of leadership and job promotion, and has been successfully coaching both private clients and groups from a wide range of industries around the world.
###