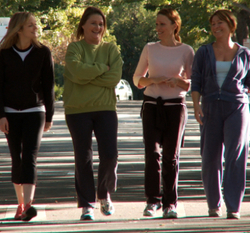 new TV - the way it used to be
Los Angeles, CA (PRWEB) September 29, 2009
"Chapin Circle" - the Internet Television Series, brings to life the day-to-day experiences of four fictional women in various stages of life. Conceptualized to be "new TV - the way it used to be," each episode offers great characters with compelling personal stories in a unique viewing format that allows you to watch full episodes (10-15 minutes in length) or choose a new option, "Character Selection," that enables you to watch an abbreviated version of every episode through the eyes of your favorite character.
Michele Palermo, the show's creator, was inspired to write the Internet series (geared primarily for women, 18-80) when she took a trip back home to the Midwest last summer. "Most of my friends no longer watch TV -- they're too tired at the end of a day to wade through hooks and gimmicks to find a character they can relate to. They'd rather spend those 30 'me-time' minutes taking a bath. But they all log-on to the Internet every day… What if their Internet time could translate to 'me-time?' If there was a great narrative television show with episodes brief enough to view on the web, but substantial enough to entertain them, perhaps even inspire them - about people who look and live like they do - maybe they'd tune in." That's how the series began. And according to research women have been outpacing men in Internet usage since 2005*, even though most original, narrative Internet content is geared toward a young male audience.
Not anymore. "Chapin Circle" is a dramedy-soap about the lives and relationships of four Midwestern women: Heather (20-something); Annie (30-something); Becca (40-something) and Susan (50-something) who live on the same suburban street and spend their first hour of each morning walking together - their stories unfold and (at times) intertwine from there. "It's like real life - they aren't all best friends -- the age differences preclude that - but they are all connected because of this walking club and the fact that they are neighbors," Palermo proffers. "And women just organically share their lives with each other. Put us together in any venue, it just happens. The thing about Chapin Circle is, the stories feel real. The people feel real. Any woman in America can watch an episode and see herself - a relationship she's had, an experience she's had - in one or more of our characters."
"Chapin Circle" is inspired by "the way TV used to be" - characters and stories - only now, you can view it your way. Each full episode is accompanied by four mini-episodes found under a unique (patent pending) option called "Character Selection", that allows viewers to tailor their experience to the character they want to watch - without ever losing the scope of the show as a whole. It's a writing, editing and broadcasting format Palermo invented that she believes might just be the true future of Internet TV. "Say you don't have time to watch a full episode. Or that you believe you're only interested in one character - you can watch just that character's story and still experience the full dramatic engagement of the show."
The first episode of CHAPIN CIRCLE is currently playing at Chapin Circle TV in its full and mini (character) versions in English, Spanish (subtitled) and Hearing Impaired (English subtitled). Episode two will be released to the public on the website on Saturday October 10, 2009 and is currently available (full English version only) for press review purposes only (passcode protected*). West Fifty-First Street productions, co-owned and founded by Palermo and her partner (in business and life), her husband, Paul Prissel, produced the series (in conjunction with Larry Gilbert), which was shot in Los Angeles and stars Midwest natives Rachael Sheridan (Heather), Lolly Howe (Annie), Michele Palermo (Becca) and Connie Ventress (Susan).
For further information, or to schedule an interview, please contact Michele Palermo at via the "Contact" link at Chapin Circle TV or by phone at 310.413.7576.

###