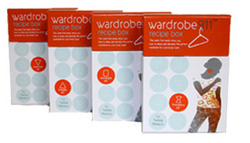 The Recipe Box takes the guesswork and anxiety out of knowing what looks right for a woman and helps them feel confident about what to wear every day
San Francisco, CA (PRWEB) July 17, 2008
The art of figuring out what to wear is a daunting daily task for many women - until now. San Francisco-based wardrobe management and style consultancy company, Wardrobe 911®, now offers the first "Recipe Box" offering simple wardrobe recipes for four common body types (triangle, inverted triangle, hourglass and rectangle) to help women answer the all-too-familiar question "What should I wear today?"
Recent research conducted by the company shows that nearly 60 percent of women struggle with what to wear on a daily basis, with 90 percent having doubts at least once a week.
"The Recipe Box takes the guesswork and anxiety out of knowing what looks right for a woman and helps them feel confident about what to wear every day," says Teresa Morisco, Chief Stylist of Wardrobe 911 and author of the Wardrobe 911 Recipe Box. "Our own research confirmed what we already knew about their frustration so I created an easy-to-use, effortless system focused on four common body types that guide women in developing their perfect wardrobe. It is not one size fits all."
The Wardrobe 911 Recipe Box helps women make smart buying decisions without wasting time or money on impractical purchases. Each box provides instructions on how to organize a wardrobe along with the basic must-have pieces and how to put them together. The recipes cover 24 outfits for different occasions including outfits for work, casual, weekend and going out with fun titles such as Hip Mom - Playing Taxi and Business Casual - Smart Office Politics. Not only does the Recipe Box help women in selecting what to wear for nearly any occasion, but it also identifies the types of clothing and fabrics that are right for each unique body type. Women are directed to their specific body type by taking Wardrobe 911's short, but thorough, body type quiz.
"Our clients come to us because they want help designing an effortless wardrobe that is easy to mix and match," Morisco states. "But when the time isn't available and they need a quick answer, the Recipe Box is the next best thing."
The Wardrobe 911 Recipe Box is rightly priced at $30 and is available at http://www.wardrobe911.com.
About Wardrobe 911:
Wardrobe 911 LLC is a San Francisco-based wardrobe management and style consultancy founded by nationally recognized personal stylist, Teresa Morisco. Since 2005, Wardrobe 911 has provided professional wardrobe and style services to women and organizations nationwide. For more information and fashion advice visit http://www.wardrobe911.com.
###