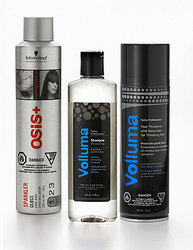 We're so convinced in Volluma that we're prepared to take all the risk and send it to any women who wants to try it out for herself. We know they'll love it. They always do
Heidelberg, Ontario (PRWEB) July 7, 2009
Volluma co-founders Dale Lorna and Christopher Denison announced today the launch of the Volluma Advantage™ 30-Day Challenge. Upon request, any women in the continental USA and Canada will receive the complete vollumizing hair care system for a risk-free 30-day trial in the privacy of her own home.
"We're so convinced in Volluma that we're prepared to take all the risk and send it to any women who wants to try it out for herself. We know they'll love it. They always do," said Dale Lorna Denison, co-founder of Volluma.com
The Volluma Advantage™ may be requested at VollumaFreeTrial.com.
Arriving discreetly and bearing only the name of Volluma's distributing company Wynner Group Inc, the Volluma Advantage™ package includes simple instructions for use, a 300 ml hair colour-matched vollumizing hairspray, a 300 ml finishing spray, and a 250 ml bottle of specially formulated clarifying shampoo.
Currently retailing for USD $99 +taxes at Volluma.com this entire package is being delivered for just the cost of shipping and handling and may be requested at VollumaFreeTrial.com.
Hair loss and thinning hair afflicts more than 25 million women in North America, and the silent suffering and devastating emotional effects on self-esteem and confidence regularly go unspoken and untreated. This socially taboo subject is a reality for too many Women.
About: Volluma is a vollumizing hair spray and part of the Volluma Advantage™ hair care vollumizing system distributed exclusively in the US and Canada by Wynner Group Inc. Originally developed in Europe, the salon grade special stay-fast formulation is weather resistant and designed for active lifestyles. Just one application gives women thicker, fuller hair instantly.
###