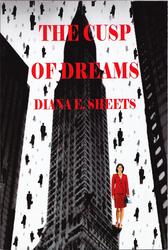 I know firsthand that women can and will do what they need to keep their jobs and protect their children in an age of decline.
Champaign, IL (Vocus) July 26, 2010
We can thank the Great Recession for finally laying bare the myth of the caring feminized workplace. Let's face it, it's brutal out there. From warm and fuzzy, it's now every man for himself. And if more than half of those men are women, well, they better have the skills to man-up and survive.
How women can navigate through today's shark-infested waters is the theme that runs through The Cusp of Dreams, Diana Sheets's instructive new collection of stories about women scrambling to hold onto their jobs so they can continue to feed their children.
"It's a myth that women are more empathetic than men in the workplace," explains Sheets, who lived the life of a high-pressured sales manager before turning to a life of writing and political commentary. "I know firsthand that women can and will do what they need to keep their jobs and protect their children in an age of decline."
Women behaving badly is, arguably, the last taboo in literature. What happens when you portray women in the workplace as every bit as cruel and backstabbing as the men they work with?
"I felt it was important to show that women can and will compete to survive," says Sheets. "Anything less is a disservice to women in the economic and social reality we inhabit. The unraveling of the American Dream isn't pretty. Fiction that sentimentalizes the tumble down the economic ladder is not true to today's corrosive reality."
But is the opposite true? Does fiction that doesn't sentimentalize women in the workplace—but shows them striving for power and victory every bit as much as men—help women compete?
"I think the answer is yes," says Sheets. "Especially if the characters are well-written and the workplace situations ring true. Seeing how women go about overcoming workplace obstacles and succeeding can be very empowering for women taught their whole lives to 'be nice' and 'get along.' I look at The Cusp of Dreams as a sort of self-help novel for women in the workplace.
And in today's dog-eat-dog environment, any help you can get is a welcome leg up that just may make the difference between surviving—and not.
For more information, visit Diana Sheets's website, http://www.literarygulag.com.
"A sequence of fast-moving stories about the competitive, inhumane world of corporate America. Sheets knows this environment from the inside out and recreates the verbal bluster, stunted emotions, and real pain of her characters with great authenticity. She is the John Cheever of sales management."
—Christoph Irmscher, professor of English at Indiana University; author of Public Poet, Private Man: Henry Wadsworth Longfellow at 200 and The Poetics of Natural History: From John Bartram to William James
Media Contact: Victor Gulotta, Gulotta Communications, Inc., 617-630-9286, http://www.booktours.com, victor(at)booktours(dot)com
About the Author
Diana E. Sheets, PhD, has a Research Scholar appointment in the English and History Departments at the University of Illinois. Prior to moving to Illinois to write fiction, political commentary, and literary criticism, she worked in sales and sales management in the metropolitan New York.
# # #