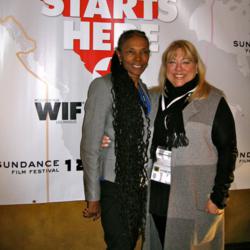 I share this honor with many women. For ten years I, together with my colleagues Candace Bowen and the other exceptional women who have served on the WIF Sundance Committee... ~ Producer/Actor Lucy Webb
Santa Monica, CA (PRWEB) January 15, 2013
The Goody Awards for social good will honor Lucy Webb and her Women In Film in Park City committee on Sunday, January 20, 2013, at the Sundance Film Festival. A Golden Goody Award is being presented in recognition of their support of female filmmakers with film grants that are presented annually at the WIF Sundance Panel to deserving female artists, as well as recognizing the friendly venue that the panel event provides for women to network with industry professionals, and the event's ability to bringing women's issues forward via the directors panel. The presentation will take place prior to the Women In Film breakfast panel discussion held at 350 Main Bistro, in Park City, Utah. http://www.wif.org/component/content/article/34-events/875-wif-in-park-city-2013
For the past 9 years, producers Lucy Webb, Candace Bowen and the WIF in Park City team, have hosted panel discussions featuring leading female filmmakers, including this year's panel presented by Skywalker Sound: "Female Voices: Women Who Dare." In 2007, WIF became an official Associate of the Sundance Film Festival.
In 2012, three female directors from WIF's panel, Ava DuVernay, Lauren Greenfield, and Lucy Walker won major Sundance Awards, and 2013 is going to be an even bigger year for women at Sundance with a record number slate of female filmmakers.
Indiewire magazine wrote recently "women directors became the story at the 2013 Sundance Film Festival." L.A. Times headline heralds "Sundance Film Festival: Female Directors take Dramatic step Forward." USA today said, "Women directors rule over 2013 Sundance Film Festival."
Lucy Webb stated, "I share this honor with many women. For ten years I, together with my colleagues Candace Bowen and the other exceptional women who have served on the WIF Sundance Committee, have worked to make these panels a place for compelling discourse with, about, and for women working in independent film."
Goody Awards Founder Liz H Kelly is a huge fan of WIF, and shared, "This is our fifth Sundance, and we are honored to present our top award to Lucy Webb at the Sundance brunch. Lucy, Candace and their team organize groundbreaking panels that bring attention to so many important female voices at the festival, and their messages are heard around the world. We are advocates of women empowerment, and believe that WIF and female filmmakers at Sundance are key influencers for all women." To support female voices in film, the Goody Awards will also be doing a digital media campaign before, during and after the festival. Follow the Tweets @GoodyAwards.
About Women In Film
Mission Statement - Women In Film is a non-profit organization dedicated to helping women achieve their highest potential within the global entertainment, communications and media industries. Founded in 1973, Women In Film and it's Women In Film Foundation provide for members an extensive network of contacts, educational programs, scholarships, film finishing funds and grants, access to employment opportunities, mentorship and numerous practical services in support of this mission. In the independent film world, the organization focuses on assisting female independent filmmakers who have exhibited advanced and innovative skills, specifically through its Film Finishing Fund and an award-winning PSA program. For more information visit http://www.wif.org
About Goody Awards
The Goody Awards does Social Good Awards via social media, special events and cause marketing campaigns in 4 key areas: women empowerment, health, environment, and education. To support causes and recognize good, the Goody Awards does pro bono PR for charities tied to Special Awards year-round. The Goody Awards mission is to inspire change by recognizing the good in the world. Anyone can tweet a shout out thank you at anytime via social media by including #HeroGoody #EcoGoody #TeamGoody #TeacherGoody and #GoodDeedGoody. CEO/Founder Liz H Kelly has built advertising campaigns and recognition programs for Fox Interactive Media/MySpace, Paramount Pictures, and the first Sprint PCS / Sprint Spectrum. Global Media Experts, Actors, Producers, Mobile Leaders and Philanthropists are on the Goody Awards Advisory Board. http://goodyawards.com
Media Contact
Liz H Kelly, Goody Awards, 310-987-7207