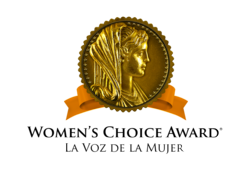 "We are excited to be partnering with Televisa to identify the most highly recommended brands among Hispanic women in South Florida."
Miami, FL (PRWEB) April 16, 2013
WomenCertified® home of the Women's Choice Award, has partnered with Televisa USA to launch the 2013 Women's Choice Awards identifying the most recommended brands and service providers voted by Hispanic women in South Florida. WomenCertified® and Televisa recognize the importance of the voices and choices of Hispanic women in the US and have teamed up to give Hispanic women the opportunity to voice their recommendations regarding the best brands in South Florida used by the Hispanic Household. Hispanic women possess an estimated $330 Billion buying power in the US.
The Women's Choice Award is given to companies that women say they would most trust and highly recommend. "Recognizing the top products and service brands nationwide that are women-friendly and align with women's identified preferences is important to our mission at WomenCertified, where we are women helping women make smart choices," said Delia Passi, founder of WomenCertified and author of 'Winning the Toughest Customer: The Essential Guide to Selling to Women.' "We are excited to be partnering with Televisa to identify the most highly recommended brands among Hispanic women in South Florida."
"It is an honor for Vanidades and Poder to partner with WomenCertified during our annual Hispanic Leadership Summit, and bring to life such a remarkable program that recognizes Hispanic women as the driving force behind important household decisions. Hispanic women take pride in caring and nurturing their families with the best products and brands that market to them culturally. The synergy between the Women's Choice Award and Hispana Leadership Summit will make for an extremely successful partnership," said Madelin Bosakewich, U.S & International Sales Director of Televisa Publishing + Digital.
Gladys Mezrahi, CEO and Founder of Indigo Events (http://www.indigoevents.net) will serve as the Hispanic spokesperson for the upcoming Women Certified Awards to take place in May of 2013.
"I am pleased and honored to be the spokesperson for such an interesting and important initiative by WomenCertified® and Televisa. Women are the decision makers when it comes to buying products and services in the home, and Hispanic women are extremely crucial to all corporations that cater to them." said Gladys Mezrahi, CEO and Founder of Indigo Events.
About WomenCertified®
WomenCertified®, home of the Women's Choice Award, honors businesses and brands based on consumer experience. WomenCertified represents the collective voice of women so they can help each other identify businesses that deserve our loyalty and referrals. WomenCertified awards businesses and brands that meet a higher standard of customer experience the Women's Choice Award. The Award is based on surveys of tens of thousands of women, as well as research conducted in partnership with the Wharton School of the University of Pennsylvania on what drives the consumer experience for women vs. men, which led to the development of the Female Consumer Satisfaction Index. Visit http://www.womencertified.com.
About Televisa Publishing + Digital
Televisa Publishing + Digital which is part of the Televisa Group, the largest media company in the Spanish-speaking world based in its market share and a major participant in the international entertainment business. With presence in 20 countries and over 100,000 points of sale, Televisa Publishing + Digital publishes over 189 titles with an annual circulation of over 174 million. Televisa Publishing + Digital's titles are #1 in market and audience share in most of its markets. In addition, the company makes available all of Grupo Televisa's properties and talent via a comprehensive digital entertainment platform, including a portal, a social-networking site, a vertical music site, magazine web-sites and a mobile platform. For more information, go to http://www.televisa.com.
CONTACT:
Gladys Mezrahi
WomenCertified
305.931.2370
pr@indigoevents.net