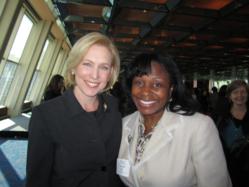 This event wasn't about politics. It was a summit that was really a discussion regarding the aspects of the critical role of working women as they contribute toward improving the economic future of NY and the Nation
Baldwin, NY (PRWEB) October 21, 2011
The future of healthcare is changing and doctors need skilled professionals help to navigate the business of ANSI 5010, ICD 10, Electronic Health Records, E-Prescribing and the incentives for compliance . Vanessa Best , Principal of Precision HealthCare Consultants, along with other distinguished women in business who took the road to entrepreneurship were given practical business ideas and expertise to "Create a Toolbox for Success" at Senator Kirsten E Gillibrand's first annual "Women's Economic Empowerment Summit 2011" at NYU's Kimmel Center in New York City.
Knowledge, experience, education and the need to self promote was emphasized throughout the summit. "Men are not shy. They do not think that it is indelicate to self-promote", said White House advisor Valerie Jarret.
Many principals of New York Women Owned Businesses networked and left the summit with an action plan to become empowered despite challenges women face in obtaining financial security.
Women currently make 78 cents for every dollar a man makes. For African American women, it drops to 71 cents to the dollar and Latinas earning are 62 cents for every dollar.
"As an African American Female Business owner of a Long Island firm, I was honored to be a participant to engage in a direct conversation and learn from some of the top professional business women movers and shakers across vast industry lines" commented Vanessa Best, principal of Precision HealthCare Consultants.
Some presenters and panelists included Valerie Jarrett, Senior Advisor to President Barack Obama; Diana Williams, Reporter & Anchor Eyewitness News; Majora Carter, Urban Revitalization Strategist; Sandra Lee, Acclaimed Home and Food Expert ; Cynthia Leive, Editor-in-Chief of Glamour and the leader behind the vision Senator Kirsten Gillibrand.
"This event wasn't about politics. It was a summit that was really a discussion regarding the aspects of the critical role of working women as they contribute toward improving the economic future of New York and the Nation" asserts Ms. Best, she adds "We at Precision HealthCare are empowered to be a part of the strong force of Women Owned Businesses to make a difference in behalf of our clients old and new."
The resources for obtaining funding opportunities available to Women and Minority-Owned Businesses thru Angel Networks and Federal Programs were made available. All were happy to hear the announcement of the New Statewide Women's Initiative sponsored with the Partnership for New York that will provide mentoring for those entering the business world.
Precision HealthCare Consultants is an Award Winning consulting firm providing Medical Billing & Auditing Services, Medical Billing Software, Electronic Medical Health Records Implementation, Mckesson Medisoft Solutions, Allscripts MyWay Solutions and Marketing Services. Vanessa Best, Principal is also a Certified AHIMA ICD 10 CM/ PCS Trainer and author of the E-Book "How To Jumpstart a Successful Medical Billing Business".
###