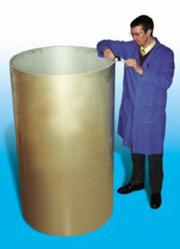 young people have an opportunity to discover how exciting careers in engineering and manufacturing can be
Accrington, Lancashire (PRWEB) November 11, 2011
In a positive move to increase awareness of the opportunities available within the sectors of engineering and manufacture, several leading bodies have founded a campaign to increase the amount of qualified female students entering the trades.
'The UK has the lowest number of professional female engineers in the EU - less than one in ten are women, which reflects the lack of publicity invested in the industry,' says Parnell, whose company manufactures and supplies electrical and thermal insulating tubes to many different industries. 'At Langtec, we produce composite tubes for many different purposes. Electrical and thermal composite tubes are used for lots of things, such as domestic appliances, right up to aerospace and defence. Manufacture is a sector that permeates everyone but seems to get very little attention as an enjoyable career choice.'
Launched on October 25th, the primary focus of the Talent 2030 campaign is to encourage women into engineering and manufacturing, supported by research commissioned by the University of Warwick and the former Chairman of multinational brand Unilever.
'The campaign was accompanied by a report entitled Great Expectations which provided a real insight into how engineering and manufacture is perceived by individuals who could potentially be the new talent in years to come,' says Parnell, who has been supplying composite tubes for over fifty years. 'Not all the news was good news, but by having certain aspects highlighted, as a result we can all make a concerted effort to encourage students into the industries.'
Great Expectations surveyed girls who were in the second year of their university courses and who also possessed the essential A grades in GCSE chemistry, maths and physics. Less than 30% who were studying towards qualifications suitable for careers within the engineering and manufacturing fields expressed an interest to work within them. Frustratingly, 40% admitted that they might have considered the sectors as a viable career if they had received the relevant information and as a result were not studying the correct subjects.
The results revealed that 90% of the women could not recall receiving any engineering and manufacturing related career information during their time in secondary education, and the majority perceived the sectors to be 'boring' and male-dominated.
Sales manager for composite tubes supplier Langtec, Lee Parnell, says 'The confirmation of the previously widely held belief that women were comparatively non-existent within engineering is regrettable, especially since we're being denied potential new talent and entirely different perspectives from half of the nation. This campaign encourages young people to consider how beneficial, rewarding, varied and creative engineering and manufacture can be.'
The report concluded that the UK is not utilising all of the potential talent available and could lose valuable business to foreign countries, proposing that all relevant bodies of industry invest in the younger generations.
The educational sector is being targeted by Talent 2030, who proposed that Design and Technology as a subject should be more concentrated and academically rigorous, with secondary schools and colleges to achieve targets for female students graded B and above in A level physics.
'If secondary school students become aware of the huge contribution those industries make on our society plus the potential for a secure career with high earning potential, we can secure a long-term future for the country. The decisions made now by fourteen year olds, can influence our industry in the future.'
The campaign also targets the government, requesting that the amount of female physics students at such institutions is published in league tables, with universities promoting internships and placements within all of the manufacturing and engineering courses on offer.
Lee Parnell, sales manager for composite tubing suppliers, Langtec. 'A strong manufacturing and engineering base is also essential to the redevelopment of this country's economy and it is vital to the survival of the industries that we all encourage Talent 2030.'
One female professional and a Fellow of The Royal Academy of Engineering, Jane Wernick hopes 'that young people have an opportunity to discover how exciting careers in engineering and manufacturing can be.'
'Because I am involved with the production process,' explains Parnell 'I see how the different components and composite tubing we supply alone are small pieces of what is a large jigsaw, and it is that which in turn becomes such diverse products like aeroplanes, electricity pylons and pyrotechnical equipment. Engineering and manufacturing, from the designers to construction, silicone chips to composite tubing, are very essential and varied roles.'
The campaign website, Talent2030.org, is aimed at students, universities, schools and businesses, encouraging inclusion and promoting the different opportunities available. Featuring testimonies from other students, the website features the different companies that are supporting the cause and their roles within the industry.
'I have to admit, I wish there were resources like this when I was younger,' continued Lee Parnell, sales manager for composite tube manufacturers, Langtec. 'I'm just glad this campaign has launched to encourage the next generation of creativity.'
Of the household names involved, network specialist Cisco and British Aerospace feature, and visitors can read the profiles of Space Scientist Maggie Aderin Pocock and Tiphaine Brydniak, a mechanical engineering student from Imperial College, who advises students to seek internships, as 'there is no substitute for real-life experience'.
'From composite tube manufacturers to designers, architects and builders, there's a variety of opportunities within these industries. For the UK to continue being a major player in the global marketplace, we need to encourage the younger generations to achieve success and longevity,' says Parnell of composite tube manufacturers, Langtec in Accrington, Lancashire. 'I have been in this trade for a long time and composite tube manufacturers are essential to create today's technology. But with everything evolving so fast, we can't imagine what we will need to create tomorrow; the enthusiastic, passionate students of today will be leaving their mark on the world by helping to create our future.'
This Press Release is part of an SEO service by Vizcom. For more information click Search Engine Marketing Manchester
# # #