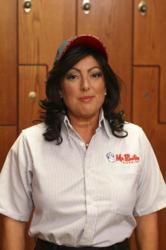 We are excited to open this opportunity for women interested in trade professions to further their curiosity, expertise and experience.
WACO, TX (PRWEB) April 04, 2013
The Dwyer Group® is proud to introduce the Women in the Trades initiative, focused on providing financial assistance to women entering the service trade industry. This includes home service fields, such as plumbing, electrical, HVAC, appliance repair, home restoration, glass installation and landscaping.
"We have 1,600 franchisees representing our brands worldwide, but fewer than 7% are owned by female sole proprietors and fewer than 4% of our front-line service professionals are women," says The Dwyer Group CEO and Chairwoman, Dina Dwyer-Owens. "We are excited to open this opportunity for women interested in trade professions to further their curiosity, expertise and experience."
The trade industry has historically been a male-dominated career path. Often, women are unaware of the potential for success and personal fulfillment, which can be achieved by working as a trade technician. In addition, the opportunities that come with opening a franchise business specializing in a trade can lead to a highly rewarding career path and lifestyle. Studies have shown that females in the home are often the lead decision-makers when it comes to home maintenance. This inherent familiarity with the target audience gives a female trades expert a unique industry advantage
"Countless women have lost good jobs and we are now recruiting them as franchisees or as front-line plumbers, electricians, grounds care experts, restoration specialists and appliance, HVAC and glass installation and repair technicians within our seven home service brands," stated Dwyer-Owens. "It makes sense to offer women interested in either changing their career paths or further pursuing their career in these industries the opportunity to become the best of the best through thorough training and education."
The Women in the Trades Scholarship is open to women 18 and older, interested in pursuing a career in the trades. Qualified candidates who are actively pursuing a degree or certification in a trade are encouraged to apply. Candidates will be evaluated based upon financial need, previous work experience, and their passion for their chosen industry. For more information and to apply: http://www.dwyergroup.com/women-in-trades.asp or email WITT(at)dwyergroup(dot)com.
About The Dwyer Group, Inc.®: The Dwyer Group, Inc., based in Waco, Texas, is a holding company of seven franchise businesses, each selling and supporting a different franchise under the following service marks: Aire Serv®, Glass Doctor®, The Grounds Guys™, Mr. Appliance®, Mr. Electric®, Mr. Rooter® (Drain Doctor in the UK and Portugal), and Rainbow International®. Collectively, these independent franchise concepts offer customers worldwide a broad base of residential and commercial services. Dwyer operates glass shops in New England under the Portland Glass brand name. The Dwyer Group is a portfolio company of TZP Group LLC, a private equity firm based in New York that focuses on control investments in business and consumer services companies with enterprise values generally up to $200 million. For more information on The Dwyer Group visit the company's web site at http://www.dwyergroup.com.