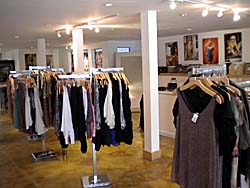 Scrapbook offers unique tops, dresses and jackets at a moderate price point. They specialize in mixing prints and fabrics to make the styling special
San Francisco, CA (PRWEB) September 24, 2011
Established in 2006, Liv Fashion Boutique has grown from just one store in Ukiah to three stores including locations in Santa Rosa and San Francisco. The fashionable women's boutique takes pride in delivering outstanding one-on-one service and care. As trends come and go, Liv Fashion Boutique updates inventory to stay ahead of the curve.
"Scrapbook offers unique tops, dresses and jackets at a moderate price point. They specialize in mixing prints and fabrics to make the styling special," says Olivia Walton, one of the owner's of Liv Fashion Boutique.
Scrapbook is making one-of-a-kind styles just for Liv Fashion Boutique as well as a preview of the holiday and spring 2012 lines. At the trunk show, customers can help Liv Fashion Boutique choose what they will carry and offer feedback to the designers. The boutique will be offering 30 percent off all Scrapbook styles in the store and will take orders for holiday styles. The event will also feature live music, champagne and free giveaways.
"Details of the event will be announced on our Facebook, Twitter and website so we would like to ask that the customers check there for the exact day and time," Walton added.
For more information on San Francisco's trendy woman's clothing, Liv Fashion Boutique and their events, visit http://www.livfashionboutique.com, find Liv Fashion Boutique on Facebook and Twitter, or call 415-692-0470. Liv Fashion Boutique is located at 3030 Fillmore St., San Francisco, CA 94123
About Liv Fashion Boutique
San Francisco's women's summer dresses, Liv Fashion Boutique provides hip and trendy fashion and a boutique atmosphere at an affordable price, while providing the ultimate customer service experience. Liv Fashion Boutique is dedicated to helping the community by participating in local fashion shows, supporting benefits, schools and sponsoring sports teams. The stores encourage and educate people interested in the fashion industry by offering work study programs, internships and informational interviews.
###