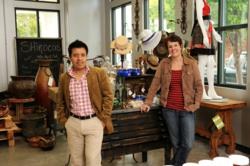 The creative and artistic nature of what we both sell fits in so perfectly with the community. It's great how we've already become seen as a central location for locals and tourists alike
Benicia, CA (Vocus/PRWEB) June 25, 2011
Two downtown merchants have found that one of the best riches they share as small town retailers is an ability to adapt.
Which is why Shirocos and Piccolo, each a successful and independent store in its own right, opted to join forces this past March under a single, common roof that incorporates 2,000 square feet of prime shopping space and a breathtakingly beautiful plaza fronting the waters of the glorious Carquinez Straits in the North Bay.
The two stores are located at 216 First Street in Benicia and open every day at 10 a.m. Each store also retains its own virtual retail presence with 24/7 updates and purchasing on the web at http://www.PiccoloBenicia.com or http://Shirocos.com.
Piccolo carries contemporary women's apparel in a boutique setting that offers fashionable styles, jewelry, designer accessories and more. They are currently featuring Rock Revival and Mek Denim clothing lines, Soul Revival, Eva Franco, XCVI, and shoe lines Irregular Choice, Poetic License and more.
Shirocos, on the other hand, features an evolving mix of regional and international home décor, creative and artistic accessories (including a changing selection unusual rescued and recovered metal and wood furnishing pieces). They are also quickly becoming the place of choice for culinary sauces, olive oils, and gourmet treasures (including local honey) that reflect the area.
"We have already found that our customers from the past and our new ones love the location. It works very well as we blend our different products, and we've already discovered that the many community and charity events we do work well in this setting," noted Laurie Key, proprietor for Piccolo.
"The creative and artistic nature of what we both sell fits in so perfectly with the community. It's great how we've already become seen as a central location for locals and tourists alike," added Shirocos owner, Erick Martinez.
MEN IN BENICIA
Benicia is a town that has much appeal to men. It features outdoor activities, history, fishing, boating, artistry and architecture. Grilling and barbecuing also go well with the gourmet adventures of being near the Napa and Sonoma valleys.
Shirocos and Piccolo are celebrating Men in Benicia with a number of activities that men, and those who love men, will find attractive. Shirocos will be providing regular tastings of award-winning mustards, cooking and grilling sauces and other surprises. In mid-June, Piccolo will highlight designer clothing and accessories for men. Check out our websites. Below is a calendar of other activities
COMMUNITY CALENDAR OF EVENTS AND PROMOTIONS

July 4th - CELEBRATION OF FREEDOM & FUN. Piccolo and Shirocos are together at the very place where parades and fireworks explode with excitement. Come see why Benicia is famous for community gatherings like these.
October – ANIMALS IN BENICIA. Benicia is a town for animal lovers. Shirocos is currently working to organize a second exciting evening event to raise money for abandoned and needy cats and dogs. Check out their site for more information.
About Shirocos Piccolo
Shirocos and Piccolo were successful and separate retail entities until they joined forces under one roof in the city of Benicia in March 2011. Together a shopper can be expected to find specialty gourmet food, home décor, home design, a women's boutique, women's clothing and women's designer jeans all under one roof. They serve Sonoma, Napa, San Francisco and Walnut Creek.
###