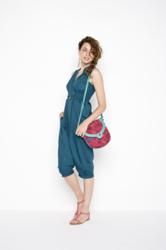 There's a renewed air of optimism in the fashion world right now
San Francisco, CA (PRWEB) March 31, 2012
As the seasonal rains give way to warmer weather, eco-conscious clothier Skunkfunk's landscape is resplendent with vibrant, head-turning colors. Innovations in design, materials and fits highlight the new Spring-Summer line, which can be purchased online and at Skunkfunk's Manhattan and San Francisco clothing stores.
"There's a renewed air of optimism in the fashion world right now," said Sean Santos, Skunkfunk's Valencia Street Store Manager. "People are looking for more colorful and playful clothing to wear not only to social occasions, but also at work."
Commenting on specific pieces in Skunkfunk's Spring-Summer Collection, which is called "Make Your Summer Anywhere" and can be viewed online at http://www.shopskunkfunk.com, Santos had the following comments and tips:
The Sare
"A jumpsuit like this adds luxe sex appeal while keeping the wearer uber-comfortable. Just add a pop of color in your clutch (and keep it vintage) like yellow python or patent magenta."
The Arginzura
"A classic silhouette like this is perfect for women of all sizes, and is appropriate for a day at the office or date during the day. I suggest polishing off the look with a cardigan, black tights and a mid-length layered necklace."
The Laka
"You seldom see a dress like this in stores, and I find the print sublimely optimistic. For an out of the box statement, layer an olive green, mid-length drapey skirt over the dress—which we also sell at all of our locations and online, big sunglasses, flat sandals and a floppy hat."
The Mariadam
"I see a nod to the '40s in this dress, and I absolutely love it! Vintage inspirations are a very big trend for us at Skunkfunk this season. No matter how this dress is worn, you'll always pull off a sophistication that is both feminine and flirty."
The Epelea
"Interesting details on the back of a garment create a lasting impression that can be powerfully seductive. (Just don't ruin it by looking back!)"
Skunkfunk offers urbanites eco-friendly fashion, including convertible clothing that can be instantly redesigned for different looks and occasions. The Spanish-born purveyor of fine clothing is applauded for its eco-friendly fabrics and ethical distribution practices that harmonize with the environment.
Skunkfunk works hard to bring positive change to three areas of the fashion industry: people, planet and prosperity. Textiles are carefully chosen based upon their impact to the environment, and include recycled polyester, organic cotton and Lyocell.
RECYCLED POLYESTER
Polyester comes from crude oil, a natural scarce resource with a low renewability ratio. Recycled polyester is processed in a less energy intensive way than creating virgin fibers, and it's a perfect option to give a second life to post-industrial remains or post-consumer plastic waste.
ORGANIC COTTON
Organic Cotton is a natural fiber cultivated without the use of synthetic chemicals, such as pesticides or fertilizers, and is not genetically modified.
LYOCELL
Lyocell is a light and silky textile made from regenerated cellulosic fiber that comes from eucalyptus wood pulp. The biodegradable fiber is extracted under a sustainable closed-loop process that saves energy.
For more information about the ENK shows, the Northwest Market show, or any of Skunkfunk's products, call (415) 692-7678, go to http://www.shopskunkfunk.com, or visit one of their three stores located at 1475 Haight Street (Haight-Ashbury) and 302 Valencia Street (The Mission) in San Francisco or 181 Orchard Street (SoHo) in New York City.
About Skunkfunk
Skunkfunk is a Spanish-born New York and San Francisco clothing store that specializes in environmentally-friendly women's, children's and men's clothing. Skunkfunk has stores in San Francisco, New York City, various European cities and online. Their clothing is also sold in multi-brand stores throughout the United States.