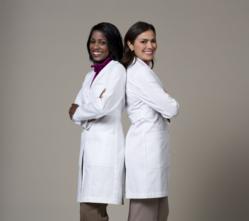 Here at Medelita, we feel rather strongly about the connection between appearance, confidence, and poise.
San Clemente (PRWEB) June 18, 2013
Medelita® has partnered with the Association of Women Surgeons (AWS) to offer an exclusive discount on premium medical lab coats and physician scrubs.
Medelita will offer a special benefit to AWS members, providing each member with a 15% automatic discount on any order of lab coats or scrubs made at medelita.com. The Medelita member benefit program is designed to provide support to regional and local communities women surgeons in over 15 countries worldwide.
CEO and company founder, Lara Francisco, PA-C was thrilled at the opportunity to extend these benefits to AWS members, "Here at Medelita, we feel rather strongly about the connection between appearance, confidence, and poise. As a practicing clinician, I was constantly focused on professional growth and development, and I couldn't think of a better fit in terms of philosophy, mission and goals for both organizations."
This member benefit is available to all regional and county medical associations across the U.S. and around the world on a case-by-case basis. Please contact contact.us(at)medelita(dot)com for more information.
About Medelita
Medelita is redefining the way healthcare professionals present themselves at work. Combining innovative, certified, performance fabric technology with sophisticated designs and hand-tailored workmanship, Medelita offers the most refined, comfortable and functional gender specific lab coats and physician scrubs available. Exquisite detailing and traditional sizing ensure flattering shaping, an unsurpassed professional appearance and a vastly improved fit. Quality is so exceptional, the company provides a One Year Guarantee – which is unmatched by any other medical apparel manufacturer in the industry. For more information, visit the Medelita website at http://www.medelita.com or call 877.987.7979.
About The Association of Women Surgeons
The Association of Women Surgeons is committed to supporting the professional and personal needs of female surgeons at various stages in their career - from residency through retirement. Since our founding in 1981, AWS has set up many programs with the specific objective of promoting the professional growth and advancement of our members. By working together, and with organizations like the American College of Surgeons, AWS hopes to bring down barriers that remain for women in surgery.
With over 1,400 women surgeons as members, AWS is one of the largest organizations dedicated to enhancing the interaction and exchange of information between women surgeons. Truly an international organization, AWS has members in 15 countries, including: Australia, Beirut, Canada, the Commonwealth of Dominica, Germany, Greece, Hong Kong, Ireland, Israel, Japan, Latvia, Malaysia, South Africa, Switzerland, and the Unites States of America.
Contact:
Joe Francisco
Medelita
1046 Calle Recodo, Suite D
San Clemente, CA 92673
877.987.7979
joe(at)medelita(dot)com