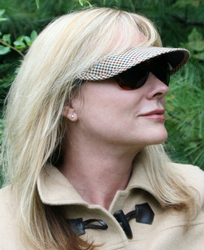 Just because the temperature drops below 65 degrees, it doesn't mean it is safe to go out in the sun without protection
Round Hill, VA (PRWEB) October 22, 2009
Avoiding excessive sun exposure is not just good common sense: It's now more fashionable than ever. Vizini, Inc., the company responsible for the innovation of the completely strapless sun visor, premiered a Fall Collection of women's sun visors at the New York International Gift Fair that included sun visors in corduroy, plaid, houndstooth and more, as well as a new Vizini pouch.
Vizini, Inc. launched the strapless sun visor that slips onto sunglasses in the fall of 2007. The innovation addressed the "hat hair," sweating, headaches and forehead lines that traditional headband, and clamp-style sun visors produce. According to owner Rita Hockenbury, sales of the Vizini strapless sun visor have continually grown, mostly due to word of mouth from enthusiastic customers. That rapid growth of interest, as well as feedback from customers, prompted her to forge ahead with new products that are practical and just plain make sense.
"Just because the temperature drops below 65 degrees, it doesn't mean it is safe to go out in the sun without protection," said Hockenbury. "A lower temperature doesn't mean it is okay to squint and make deep creases between your eyebrows. With our new Fall Collection, we can stylishly protect our eyes and the eye area from the sun all year round, like we should."
Hockenbury said the decision to transfer the company's production from overseas to Southwest Virginia in January allowed her to expand the company's capabilities and paved the way for the new products. In addition to the new styles, at customer request Vizini, Inc. is now also offering a pouch in which to store the strapless women's sun visors. "We just listen very carefully to our buyers and end-users. We take their feedback, good and bad, to heart."
The Vizini sun visor for women is available to customers for single-item purchase for personal use on the company's website, Vizini.com. Vizini, Inc. is also retail-buyer friendly, offering wholesale packages with small minimums, display options, free marketing photos and a 90-day, 100% money back guarantee for in-stock colors/patterns. The company's website includes a variety of product photos and convenient ordering.
For more information about Vizini, Inc. sun visors, visit the company's website, Vizini.com.
About Vizini, Inc.:
Vizini is proudly made in the USA at a community rehabilitation program that provides employment for persons with disabilities whose good workmanship produces quality Vizini visors. The company was launched in the fall of 2007 by owner Rita Hockenbury and is now based in Round Hill, Virginia. Vizini, Inc. designs, manufactures and distributes the first totally strapless sun visor, winner of the Best New Fashion Accessory at the 2009 California Gift Show. Vizini products are available at hundreds of stores throughout the United States.
###