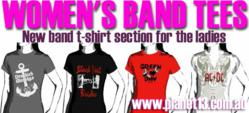 When I noticed our demand for womens tees increase, launching a new section just for them was a no-brainer
Melbourne, Victoria (PRWEB) November 12, 2012
Over the years, Australia's access to a wide range of band t shirt sizes has been limited. The most common fits were always in the classic men's tees, leaving little choice for the female rockers in Oz. Shawn Scott, life-long musician and owner of band merch store Planet 13, says there's a strong demand for ladies band t-shirts now, which has given rise to him launching an entire category just for them on the site. Shawn says, "When I noticed our demand for womens tees increase, launching a new section just for them was a no-brainer."
There's just nothing like the casual fashion of jeans and a band shirt. Since the 1950's western cultures have grown to love that laid-back style that goes hand-in-hand with band tees. The trend jumped the pond to Australia, but until more recently, the range of band t-shirts available has been limited for many.
"Band tees are simply a music fashion staple," comments Shawn Scott, life-long musician and owner of band shirt store Planet 13, "but until recently the sizes for fans here in Australia has been pretty limited."
Shawn credits Australia's distance from other rock and roll cultures as being the reason manufacturers of licensed tees weren't in a hurry to expand their range. "The licensors here have had a captive audience because of Australia's isolation. It's not like you can source more licensed tee sizes from a neighboring country." Shawn further says, "Until recently, women would have to DIY smaller men's sizes to make them fit, or if they were lucky, they'd be able to buy from a strictly limited range"
But now Shawn says that things are changing for the better in Oz for those fans who don't fit within the classic men's t-shirt cut. Shawn continues, "I'm glad to say the demand for women's band shirt sizes has forced license-holders to bring out a more suitable range for the lady rockers out there."
This demand has fueled Planet 13's launch of a completely separate category called 'Band Tees Women' on the site. Shawn finishes by confirming, "and we're continuing to expand the lady's band shirt range as we speak."
Along with their growing womens band shirt section, Planet 13 have a range of toddler band tees as well as plus size band t-shirts. To view the new women's band t shirt section, visit http://www.planet13.com.au/Band%2520Tees%2520-%2520Women-c.html or watch their Band Tee Size Chart video here: http://www.youtube.com/watch?v=hCAjNZOL_m0
A bit about Planet 13™
Planet 13™ was conceived and created in 2004 by Shawn Scott, front man of the once-popular Melbourne-based glam/punk band Voodoo Lovecats. His online store Planet 13 features an extensive range of fully licensed entertainment and band shirts and merchandise.