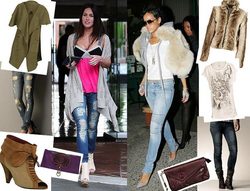 Style up this seasons hottest trends with the stars
(PRWEB) October 13, 2010
USC has launched some great new looks with this Autumn / Winter seasons hottest trends, taking inspiration from the star styles of Megan Fox with a ripped jeans rebellious look and Rhianna's biker deluxe mode. Celebrity style fans can now lay their hands on these looks with matching key pieces from Abandon, Mischa Barton, Firetrap and Diesel.
Megan Fox's ripped rebellion
USC's update on this classic denim trend combines an autumnal knit cover up and shoe boots, keeping Ms Fox's ripped jeans style very much in the fore.

These boldly slashed and frayed skinny jeans from Abandon have taken a heavy blasting to get a classic vintage style.
Super soft and chunky knit cardigan that's loose fitting, ideal for keeping out the chill this Autumn / Winter.
Mischa Barton Zip Corsage Bag
The perfect match for those ripped jeans, this synthetic leather clutch bag from Mischa Barton with an eye catching zip corsage design on its fold over flap.
Abandon Dilema High Heals - £60.00
These opened toe high heals have a worn in leather look with contrasting material panelled upper and perforated detail.
Rhianna's biker deluxe
The deluxe biker style from Rhianna combines faux fur to glam up super skinny biker jeans.
Slim fitting, straight leg skinny jeans with textured thread detailing and a crushed worn look for instant biker chic.
Villa Faux Fur Jacket - £60.00
Keeping that celebrity style is easy with this cosy and warm with this fitted faux fur jacket featuring a luxurious satin lining.
Firetrap Slow T-Shirt - £35.00
A bold graphic print with mother of pearl in-lay combined with a scalloped edge and cap sleeves in this t-shirt that's exclusive to USC.
Diesel Punk Clutch Bag - £40.00
Finish off the biker look with this funky synthetic leather clutch by Diesel with an all over cracked metallic-finish.
These alternate styles are now available at USC and offer the chance to grab some celebrity style from two icons that ooze style and help define this season's hottest trends. All of the key items detailed are available this Autumn / Winter to buy online or in-store in the UK from USC at http://www.usc.co.uk/.
USC
With an 18 year history in retail, USC is a premier destination for branded clothing, footwear and accessories. Catering to fashion savvy men and women throughout the UK, USC is a one stop shop for premium street wear and denim brands. USC prides itself on offering one of the largest collections of mens and womens jeans in the UK and working with leading brand partners to produce exclusive brand collections each season. There are 35 USC stores nationwide with six flagship stores in Manchester, Glasgow, Edinburgh, Newcastle, Cardiff and the most recent addition Liverpool.
###