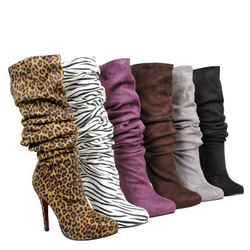 City of Industry, CA (PRWEB) October 15, 2008
It is quite interesting to know that women's love for shoes transcends cultures, boundaries, and religion. From whichever part of the world, women share the same sentiment about shoes. They have this seemingly unquenchable thirst to have the 'it' women's shoes for the season.
Online women's shoes retailer MakeMeChic.com truly understands a woman's need to have an abundance of women's shoes that could far outnumber the days in the calendar. It is this company's goal to give women the latest and the hottest styles of women's shoes at a price any woman can afford.
Fall is fashion, especially when it comes to women's shoes. As a company known for its online prowess in having the most fashionable women's shoes, MakeMeChic.com proudly unveils its Fashion Forward Fall Collection of Women's Shoes. Let this women's shoes retailer guide you to the latest shoe trends this fall:
Go Crazy on the Boots
Boots are the number one must haves in women's shoes this chilly fall season. Whether they are ankle-high, knee-high, high-heeled, flat, slouched, or fringed, boots are the in thing this fall.
The Shoe-Boot Mix
Also known as the shoe-boot, oxfords, booties, or shooties, this style of women's shoes are extremely popular. Paired with opaque tights, a woman will be one hot fashion diva this fall.
Gladiators to the Extreme
The gladiator style of women's shoes has reached a whole new dimension this fall. Whether they are ankle-high or studded, the gladiator sandals will bring out the roman empress diva in any woman.
Animal Prints
Unleash one's wild side with women's shoes in exotic animal prints. Fall is about women's shoes making a statement and animal-printed women's shoes is just the perfect way of setting the bar in this fashion forward fall season.
Every true fashionista knows that it does not take a lot of cash to look like a million dollars. With MakeMeChic's collection of extremely affordable yet highly fashionable women's shoes, any woman will be able to walk the streets in style with the perfect pair of women's shoes perfectly befitting the season.
Week after week, more and more women's shoes are added to MakeMeChic.com's fall collection. Join the growing number of women who have embraced the fact that the perfect pair of women's shoes is all it takes to glam up any style. Join the mailing list and be the first to know of the latest trends and arrivals in women's shoes, as well as promotions, discounts, and sales that are happening in the MakeMeChic web store.
About MakeMeChic.com
MakeMeChic.com is every woman's partner when it comes to fashionable finds. Based in the City of Industry, CA, MakeMeChic.com is an online store that specializes in trendy women's shoes and apparel. With over 50 latest styles of women's shoes and apparel arriving weekly, a woman will never be out of style.
###