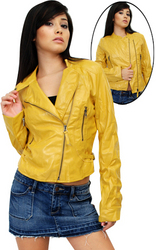 City of Industry, CA (PRWEB) October 2, 2009
Summer may be over but online women's shoes and apparel store MakeMeChic.com has all the right stuff to heat up your autumn and winter blues. Stock up for cheap on the latest fall styles, including over-the-knee women's shoes, faux leather motorcycle jackets, and sweet and sassy Halloween costumes for women. From now until October 4, 2009, use coupon code "ENTIRE15" to receive 15% off your entire purchase of women's shoes and clothing!
MakeMeChic.com has a full inventory of fall women's shoes. Browse our brand new collection of daring over-the-knee boots that look great thigh-high or cuffed below the knee, right now for 15% off. This latest women's shoe trend can be seen in all the major fashion publications and on the best-dressed starlets in Hollywood. Also available are tough mid-calf boots and zip-up ankle booties. MakeMeChic.com's latest deal of the week is the faux suede ankle bootie with a sexy "come hither" heel and studded ankle straps for only $12! Available in black, gray, brown, taupe, and purple, this showstopper deal will be over soon!
Already own the must-have women's shoes for this season? MakeMeChic.com also has a great inventory of faux-leather jackets in the sexiest cuts. The online women's shoes and clothing store has great motorcycle, bomber, and vest jacket styles at an affordable price. MakeMeChic.com also has hot one-shoulder mini dresses for a glamorous night out.
Even better, receive free ground shipping for all domestic orders of women's shoes and apparel over $50. Use coupon code "SHIP50" upon checkout to take advantage of this exciting offer! To keep track of all the latest style trends, sign up with MakeMeChic.com's mailing list to receive monthly updates and coupons on women's shoes, apparel, swimwear, handbags, and assorted accessories.
About MakeMeChic.com:
MakeMeChic.com is every woman's partner when it comes to fashionable finds. Based in the City of Industry, CA, MakeMeChic.com is an online store that specializes in trendy women's shoes and apparel. With over 50 latest styles arriving weekly, a woman will never be out of style. Press release produced by Cybertegic.com -- an Internet marketing services agency that specializes in search engine optimized press release marketing (SEO marketing).
Contact:
Polly Su
19913 Harrison Avenue
City of Industry CA 91789
Tel: 909-595-3330
###