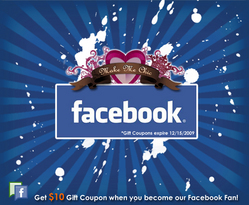 MakeMeChic.com will send new Facebook fans a free $10 coupon for their next purchase.
City of Industry, CA (PRWEB) December 9, 2009 –-
Enjoy Facebook? So does online women's shoes and apparel store MakeMeChic.com. The best place for the latest trends in women's shoes, dresses, and accessories is now on Facebook. To kick things off right, MakeMeChic.com is offering a free $10 coupon to new Facebook fans for their next purchase. To take advantage of this great offer, new Facebook fans should email facebook(at)makemechic(dot)com with their Facebook profile name. MakeMeChic.com will send them a one-time $10 coupon code valid for their next purchase through MakeMeChic.com! Google Checkout and eBay purchases do not qualify. One promotion per order, coupon code not retroactive. Hurry now, because gift coupon codes will expire December 15, 2009.
MakeMeChic.com has a great inventory of sexy club dresses, including tastefully sexy, one-shoulder dress for as low as $16. Complete a clubbing outfit with fashionable women's shoes, women's boots, women's pumps, or women's sandals and get ready to paint the town red in style. To get warm for the holiday season, MakeMeChic.com also has a fabulous collection of trendy crochet women's boots, starting at only $15 a pair. Whatever taste and budget, MakeMeChic has the right women's shoes, apparel, and accessories for all women.
MakeMeChic.com truly understands a woman's need to have the best fashion pieces without breaking the bank. MakeMeChic.com constantly updates all women's shoes lovers on the latest trends, deals, and steals on women's shoes. Sign up with the company's newsletter and walk the streets in style all year round.
About MakeMeChic.com:
Based in the City of Industry, CA, MakeMeChic.com is an online store that specializes in trendy women's shoes and apparel. MakeMeChic.com is every woman's partner when it comes to fashionable finds. With over 50 latest styles arriving weekly, a woman will never be out of style. Press release produced by Cybertegic.com - an Internet marketing services agency that specializes in search engine optimized press release marketing (SEO marketing).
###