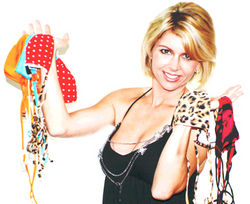 It's hard enough for a woman to find the right swimsuit, so a man has an uphill climb right from the beginning
Phoenix, AZ (PRWEB) June 3, 2008
Fiji Time Swimsuits & More announces their swimwear buying tips for men that are purchasing a new swimsuit for the woman in their life. With summer fast approaching, Danna Pomeroy of Fiji Time Swimsuits & More (http://www.fijitimeswim.com) offers these tips to men so that they can select the right swimsuit for their significant other's body type as well as their sense of style.
Fiji Time's swimwear shopping tips for women have been widely distributed in multiple publications and on the web. However, Danna Pomeroy explains that a good percentage of her customers are men who are in desperate need of assistance when it comes to buying a swimsuit for a woman. "It's hard enough for a woman to find the right swimsuit, so a man has an uphill climb right from the beginning", says Danna. "I am constantly amazed by how many men want to get involved and help their woman find the perfect suit. And, when it is done right, a swimsuit is the perfect gift."
For those men who dare, Danna shares these tips for men:

Know your woman's body type. Just because the model wearing the teeny bikini looks hot, doesn't mean the woman in your life will look great in it too. Skimpier isn't always better, especially if you want her to wear the swimsuit outside of the bedroom. Be honest with yourself about what you think her best features are and more importantly listen and take into consideration what she thinks her best features are. Also, know what parts you shouldn't accentuate or highlight. Just like a tailored shirt that takes all of your measurements into consideration (Arm length, cuffs, neck width etc.), certain fits will make her body look better than others. For instance, a bandeau top is typically more flattering on women with smaller busts. Larger breasted women may need something with underwire or extra support.
Know her sizes. If this will be a surprise then you will have to do some investigating. Get her bra size by taking out a few of her bras and looking at the tag to see what the size is (36B, 34 D etc.). Look at more than one bra that she currently wears, because sometimes this can change. If you have confirmed the same size on two or more bras, then you have the right size. Also, check her pant size on her favorite pairs of pants that she wears all the time. Get the number size. Don't be discouraged if you see multiple sizes, like a 6 on one pair and a 8 on the other, check a 3rd pair for confirmation.
One-pieces are great for plus size women, but just because your woman is not a size 2, does not mean you must shun a two-piece for her. If she has larger legs and a smaller torso or if she has very broad shoulders a one piece might actually emphasize her flaws. Don't automatically assume a one-piece bathing suit is more flattering than a bikini.
Pay attention to detail on the suit itself: Colors and patterns are very important and can make her body look better or worse. As an example, to de-emphasize her rear, a solid color usually draws less attention to the area. Conversely, if she is small busted and self conscious about it she can play up her bust with a swimsuit top that has bold patterns and colors. Playful suits with ruffles, logos, or really bold designs in certain areas can help draw attention towards one area her body while masking others.
If you are looking to help her de-emphasize her butt, choose a bottom with less fabric. The less fabric she has, the smaller the target for people's eyes. This doesn't mean you should get a thong! Stick with a cut that is either rio, brazillian or moderate. The more fabric, the bigger the butt will look.
Looking to de-emphasize the butt and emphasize the breasts? Another tip to draw the eyes away from the buttocks would be to get her a top that is eye catching. It can be more colorful, have jewelry, and have a pattern or anything else that would catch attention. Then pair this top with a solid darker color on the bottom. Patterns are also great for this effect if you find a top and bottom with a pattern. But, make sure the top has something added to catch attention like a ring or jewelry.
Fit is everything. Just like a business suit or a pair of jeans, the fit of the swimsuit is the most important item. If you are shopping online, most stores have a sizing chart for each manufacturer. Each brand fits differently. Sometimes even individual suit styles can be smaller or larger than the rest. Be sure to pay close attention. It's great that you are shopping for her because she won't worry about the size on the swimsuit tag. Too many women get hung up on trying to "fit into" size X because they don't want to be in a size larger. If a medium fits better than a small, according to the chart, even if she is usually a small, get the medium.
Remember, women are their own worst critic. So, don't forget to compliment her on how she looks in her new suit, tell her how beautiful she looks and assure her that she looks better than she thinks! Now is the time to help her feel most confident in her body. However, be honest. If the suit doesn't suit her, send it back (Remember to keep all tags attached and the liner in because most swimwear companies will not accept the return unless the suit is in the same condition as sent).
Don't know where to start, contact Fiji Time Swimsuits & More and try their online consultation service.
About Fiji Time Swimsuit & More
Fiji Time Swimsuits & More helps women find the perfect swimsuit for their body type. They make this a relaxing and enjoyable experience through any of their amazing services: Swimsuit parties, private fittings, spa and VIP services and their exclusive online consultations. Fiji Time Swimsuits & More can be found at http://www.fijitimeswim.com
Contact:
Jeff Pomeroy
Fiji Time Swimsuits & More
(480) 559-8656
http://www.fijitimeswim.com
###