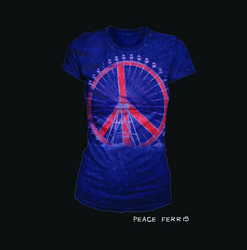 (Vocus) March 3, 2010
New York, NY, March 3, 2010 – Hyp-Inc. apparel worn by top celebrities and adored by national media is debuting their women's line on March 8th. Now, women can own and purchase their one-of-kind fun yet bold t-shirts and hoodies online at the Hyp-Inc store at http://www.hyp-inc.com.
Hyp-Inc. apparel has been worn by trendsetting celebrities in every industry from the music industry to Hollywood's elite. The unisex t-shirts and hoodies were such in high demand that it was only natural to have a women's line especially since celebrities were already having their Hyp-Inc t-shirts and hoodies customized to fit their personality and lifestyle.
Hyp-Inc t-shirts are sold at specialty stores including retail stores and online stores. These t-shirts and hoodies are sweatshop free and made in the USA. Many loyalists of Hyp-Inc lust after the dangerously cool 100 percent cotton and bold designs as well as the eco-friendly enthusiasts love the 100 percent organic cotton clothing that is ultra soft.
Hyp-Inc. has been a leader in the industry, a permanent fixture in music design with hundreds of original screen printed posters, CD packaging as well as t-shirts that have been designed for many brands and companies boasting a client list that includes numerous leaders in the music arena from Kanyne West, Matisyahu, Kid Rock, Rihanna, Timbaland, Katty Perry, Further (aka the new Grateful Dead), Matchbox20, Phish and others.
Hyp-Inc., short for Hypothesis Inc., Theory of Self Co., provides customers the highest guaranteed quality clothing by using the most durable and comfortable material made in the USA. Hyp-Inc. is a collaboration of music, art and culture spreading peace and goodwill and self-empowerment through its women's and menswear clothing with bold and edgy creations including t-shirts and hoodies. Each design is artfully crafted and produced in 100% sweatshop-free production print shops. For more information on Hyp-Inc., short for Hypothesis Inc., Theory of Self Co., visit http://www.hyp-inc.com.
For additional information or to arrange for an interview with a Hyp-Inc Inc. representative, please contact PR Specialist Tamara York.
Tamara York
Tamara York PR
917-328-4408
###