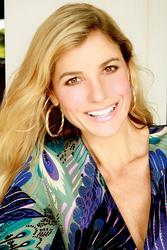 "Health Pledges do not have to be formal or complicated," explains Karen Ficarelli, creator of the Fitness4Her.com women's fitness blog. "Simple pledges that focus on day-to-day changes can bring positive lifelong results and help to inspire others"
Palm Beach, FL (PRWEB) May 10, 2010
Fitness4Her is showing support for National Women's Health Week by asking women to make a pledge for health. Already, over 130,000 participants have pledged to make positive changes in women's fitness, diet, safety and health. Each person can visit the website, Fitness4Her, then make a pledge and watch as their name pops up on an interactive map. Everyone is encouraged to share their personal struggles or victories and read the stories of real women who have taken the first step to improve their health and fitness in 2010.
May is National Physical Fitness and Sports Month, and May 9-15 is National Women's Health Week. With the theme "It's Your Time," National Women's Health Week encourages women to take time out of their busy lives to make their health a top priority. It also educates women about the steps they can take to improve their health and reduce their risk for many diseases. Those steps include eating nutritious foods, getting plenty of physical activity, visiting a healthcare professional to get important health screenings, paying attention to mental health, and making healthy choices, like not smoking.
"Health Pledges do not have to be formal or complicated," explains Karen Ficarelli, creator of the Fitness4Her.com women's fitness blog. "Simple pledges that focus on day-to-day changes can bring positive lifelong results and help to inspire others."
With a passion for fitness, Ficarelli, a fitness author, multi certified personal trainer, Pilate's instructor, sports nutritionist, fitness model and mother of three, has a deep-seated desire to help other women achieve their goal for a healthier body. Her website provides inspirational articles on nutrition, healthy cooking, fitness and motivation along with healthy tips, a fitness blog, Tools4her, Reviews4Her and appetizing recipes that are great for any meal.
Although Fitness4Her believes that health and fitness should be celebrated throughout the year, May is an excellent month to get started. With the weather warming up, taking long walks or bike rides with family and friends are excellent exercises that provide both mental and physical benefits. Anyone interested in joining this effort for women's health and fitness can make a pledge for health at Fitness4Her.com.
###