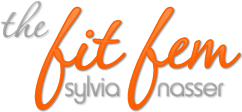 It's Always More Fun To Be A Fit Fem
Hicksville, NY (PRWEB) December 06, 2012
Sylvia Nasser, The Fit Fem, has created a fitness and weight loss program for the modern woman. With all the stresses and factors of life, it may be difficult for many women to hit the gym on a consistent basis. The Fit Fem's "Going to Miami Jumpstart Weight Loss Program" can transform women's bodies in the comfort of their own homes.
According to a study by the National Center for Health Statistics of the Center for Disease Control and Prevention, 60 percent of adult women in the United States are overweight or obese.
The "Going to Miami" fitness program will help women to lose weight safely, burn fat, increase energy, boost their metabolism and give them a lean and toned body. The program will teach women how to eat properly and exercise effectively without having to step foot outside of their homes.
The womens fitness program consists of: an eating plan (food combinations and nutritional guidelines), a five-day sample meal plan, a one-month workout calendar and an order of exercises to do along with visual descriptions. It also includes newsletters, a Facebook group page dedicated to the program and answers to all questions.
The Fit Fem Studio
Created by Sylvia Nasser, The Fit Fem, in 2010, The Fit Fem Studio is a Long Island based company that focuses on the softer, fun, yet intense side of fitness. Featured on EverydayHealth.com and EHealth Radio, The Fit Fem Studio offers in-home personal training, an online gym that consists of on-demand workouts and on site group fitness sessions. The business focuses on getting women healthy, but having them love themselves during the process no matter what their size or body shape may be.
--
Keeping the Fun in Fitness!

Sylvia Nasser, CPT, HHC
The Fit Fem
Your fit fem personal trainer and expert in women's only fitness,
http://www.thefitfem.com