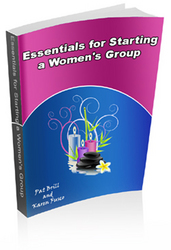 "NEVER Let A Little Doubt Stop You from Creating Something Truly Amazing"
Bayside, NY (PRWEB) April 11, 2011
The newly released ebook "Essentials for Starting a Women's Group" is a step-by-step guide on how to start, build and run a successful personal women's group. Authors Karen Fusco and Pat Brill provide detailed guidelines to help all different types of women create and maintain all different types of groups: self-development groups, church groups, business networking groups, mom groups and many more.
According to Brill, "We created this book because we see the big picture. We envision what it would be like if small hubs of women all over the world come together. How would a hundred, a thousand or a million small groups of women influence the world?"
While women have informally supported each other throughout history, and large, national women's groups bring like-minded women together, what the authors of "Essentials for Starting a Women's Group" have in mind is a small, personal, yet structured, group of women who come together to support each other.
Brill started her women's group in 1997 with the intention of creating a group of women who help and support each other with daily living. Through trial and error and with no formal guidance on how to start or build a group, Brill and Fusco developed a well-functioning group that is still in existence today.
Brill and Fusco found so much value in their women's group that they began helping other women who were interested in forming groups but had no idea how to start or manage a group.
For a woman with the vision and the desire to start and build a women's group that will last for years, "Essentials for Starting a Women's Group" provides not only start-up information but also tips on how to keep the group positive and moving forward and how to handle problems in the group – and problem members – with care and finesse. Although one woman may the start the group and promote it, the success of the group depends on the participation of all members. As Fusco notes, "Each woman is an important part of a group's development, and when individuals come together with a desire to contribute and build a group, it is successful."
"Essentials for Starting a Women's Group" is available at a discounted price of only $27 at http://www.Womens-Group.net and includes a free bonus gift, "A Topic for Everyone: Women's Group Discussion Topics and Activities," valued at $17.97. The authors are so sure of the value of the information in the ebook that they offer a 56-day money-back guarantee.
About the Authors:
Karen Fusco and Pat Brill help thousands of women all over the world start, plan and grow their own personal women's groups. They are the founders of Boomers in Motion, LLC, owners of WomensGroupBusyBites.com and the authors of "Busy Moms: The Heart and Soul of a Home."
# # #