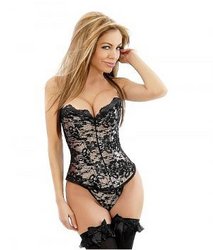 Theo Pathitis is my idol.. What better person to compete with?
(PRWEB) June 8, 2010
Suzie May Lingerie, the long anticipated women's underwear company, which is selling sexy lingerie and women's swimwear, has finally launched under the entrepreneurial guidance of Nick Gonnella and with funding from a mystery silent partner.
After making a name for himself in the carpet and rug care industry, Nick decided to enter the lingerie market after being inspired by his long term business idol and star of the BBC's Dragon's Den, Theo Pathitis.
The company is trading as an online retailer but plans to open a flagship store in the heart of west London sometime in the spring of 2011.
When asked why he decided to sell online to begin with Nick told us "I've always built my businesses from a starting point with low overheads. This enables you to focus on gradual low risk growth and customer satisfaction. High street rents in London are seriously overpriced and so we want to build up a strong customer base and brand loyalty before we go down this route. Also, purchasing sexy lingerie can often be a last minute task either because a woman needs it quickly for an upcoming party or a man has just remembered his wife's birthday and has no time to shop on the high street. This is why we send orders out on the same day by recorded delivery and the response has been very positive."
With online retail sales growing steadily year on year and the recession forcing people to watch their purses, this may prove to be a smart strategy.
Kelly, a new Suzie May customer, says "Most reputable companies give a money back guarantee on stuff you buy online now and the prices can be discounted by as much as 50% so why buy sexy lingerie on the high street when the garments are of the same quality and style?"
Nick Gonnella, who will be steering the company to future sales growth, says he is optimistic about the future of the brand. Speaking at a recent lingerie event he said "We know the market is saturated with companies trying to sell sexy lingerie online however many of them are drop shipping and can't offer adequate customer service. We're in an information age where customer service is everything because bad reviews of your company left on comparison sites are there forever. There is evidence of this on many directories and lingerie review sites where as many as 50% of companies are showing sites that are no longer active. I believe this is due to bad marketing practices and poor customer service killing these businesses before they can cover their overheads and break even."
With the women's underwear sector already very saturated Suzie May is focusing on the alternative sexy lingerie market, selling items such as sexy costumes and corsets for hen nights and parties as well as clubwear and women's swimwear. Although they are also offering all other types of traditional lingerie items such as bras, thongs and baby dolls, the operations director Chris Karanikki says he wants to concentrate on items that other companies are neglecting. "Our costume range is vast and we know these will be very popular in the run up to the summer as many hen parties are taking place at this time of year. Other companies are offering the usual sailor outfit and French maid costumes however our range covers many more themes."
Only time will tell if Suzie May Lingerie is a success but with a wealth of talented individuals behind the company and a keen focus on customer satisfaction they are sure to give the likes of Ann Summers and La Senza a run for their money.
For more information on Suzie May, or to view their sexy lingerie, costume and women's swimwear collection, visit their website at http://www.suziemay-lingerie.co.uk or visit their lingerie Facebook page.
###