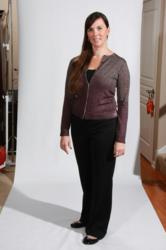 Lake Geneva, Wisconsin (PRWEB) November 27, 2012
Mercy Walworth Hospital and Medical Center is pleased to welcome Jill Edwards, RN, certified nurse midwife, to its obstetrics/gynecology staff. Jill joins Carol Gilles, MD, board certified obstetrics and gynecology physician.
"In my practice, I spend quality time with my patient, which allows us to form a solid bond and trusting relationship," says Jill Edwards. "I believe in fully educating each expectant mom during her prenatal care. This allows me to calmly enter her birthing experience with confidence and trust she deserves."
Jill's areas of special interest include:

General gynecological care and procedures
Holistic women's health care
Family planning services
Education and preventive care
Patient advocacy
Childbirth
Postpartum care
Jill earned her master's degree at Philadelphia University, Philadelpha, PA. She is a member of the American College of Nurse Midwives.
For more information, or to make and appointment, call (262) 245-0535 or toll-free (877) 893-5503.