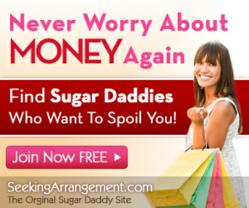 Instead of selling the princess fantasy, parents ought to empower their daughters by showing them how to be Sugar Babies and to demand more out of their personal relationships
Washington, D.C. (PRWEB) February 28, 2012
March is the National Women's Month in the United States and the United Kingdom. This year, the focus of the annual Women's History Month will be on "Women's Education and Women's Empowerment." As the only Sugar Daddy dating website that encourages women's education and women's empowerment through their dating relationships, SeekingArrangement.com is celebrating this year's Women's History Month by offering all female members 2-for-1 discounts on any Sugar Baby or Sugar Mommy membership package.
"SeekingArrangement.com was created to empower women," says Brandon Wade, the website's Founder & CEO. "A Sugar Baby is an empowered woman who is tired of dating losers that contribute nothing to her life. She has made a commitment to only date men who will help her to achieve her goals."
Since its launch in 2006, SeekingArrangement.com has inspired a countless number of women to seek empowered relationships. To date, over 800,000 women have turned to the Sugar Baby lifestyle to achieve their short term or long term goals, including paying for college, rent, mortgages, car, cosmetic surgery, shopping, traveling or starting a business.
Since "Women's Education" is the focus of this year's Women's Month, SeekingArrangement.com notes that over 40% of its Sugar Baby members are college students using the website as a means to pay for their college education. Last month, the website published its "Top 20 List of Universities" with the most sugar babies. In its continued support for women's education, the website has been offering free premium memberships to all female college students who register for an account using their dot-EDU email address.
In addition to college students, 19% of its Sugar Baby members are aspiring actresses, artists or models; and 15% are single mothers. Over 32% of the Sugar Babies surveyed on the website say they want to eventually start their own business and to become financially independent.
"Women are brought up in our country to believe they are princesses who will eventually meet their prince. In Disneyland, even the beast turned out to be a prince," says Mr. Wade who holds a BS and MBA degree from the Massachusetts Institute of Technology. "Most girls grow up realizing there is no fairytale ending. Instead of selling the princess fantasy, parents ought to empower their daughters by showing them how to be Sugar Babies and to demand more out of their personal relationships."
Women's Month 2-For-1 Membership Offer
Sugar Baby members can use the basic features on SeekingArrangement.com for free. However, premium membership, which offers members access to advanced search and privacy features, normally costs $20 for 30-days. From March 1 – 31, 2012, premium memberships will be $20 for 60-days.
For more information about the website, or to request for a press interview, please visit SeekingArrangement.com or contact Jennifer Gwynn at (702) 241-0100 or email press (at) seekingarrangement.com.
About SeekingArrangement.com
SeekingArrangement.com is the world's leading Sugar Daddy and Sugar Baby social network. Launched in 2006, the website has been setting a higher standard for what it means to be a Sugar Daddy. According to the website, a Sugar Daddy is a generous and successful gentleman who respects and seeks to empower women. By making women's empowerment its core strategy, the website has attracted over 800,000 female registrations. Brandon Wade, the website's founder has also launched a number of other online dating websites with the same empowering themes, including WhatsYourPrice.com a website where participants bid on a first date, SeekingMillionaire.com a millionaire matchmaking personal, and MissTravel.com a travel dating website for frequent flyers and girls who love to travel.
###