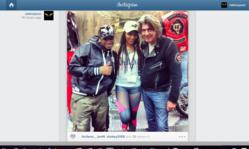 Las Vegas, Nevada (PRWEB) February 22, 2013
Robin's Jean debuted their fall 2013 collection at Project Trade Show in Las Vegas. The trade show was part of Magic Market Week held in the Mandalay Bay Convention Centers. The new collection includes men and women's jeans, as well as other unique pieces.
"We are so proud of our show at this year's Project Las Vegas," said owner Robin Chretien. "I would like to thank all our partners that came to support us."
During the exhibition, many fans stopped by to check out Robin's new line, including stars of the hit VH1 reality show "Black Ink Crew," Ceasar and Dutchess. The duo took a photo with Chretien in front of the Robin's booth.
Robin's Jean feature a unique collection of jeans, jackets, tops, hats and belts for men and women. Represented by the gold wings logo, Robin's Jean captures Robin's childhood dream of freedom and flight. Robin arrived in Los Angeles in 1996. His skills combined with talent, caught the eye of the best denim companies in LA. In 2005, he decided to incorporate his passions for designing clothes, riding motorcycles and vintage cars with his fascination of the American Indians and the spirit that embodied warriors and their fight for freedom to create his own line, Robin's Jean. Today, Robin designs all his looks in the United States, and his unique pieces truly embody his love for freedom of the open road and the big sky.
For more information, visit robinsjean.com.