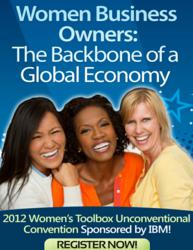 "We have a wide variety of women from a diverse range of businesses coming together for this event. It will be a game changing three days of learning." Janet Powers, CEO, Women's Toolbox
Boston, Massachusetts (PRWEB) September 28, 2012
The Women's Toolbox 2012 Unconventional Convention, a conference dedicated to changing the world for women in business, has made its initial round of speaker announcements. The annual conference, taking place October 18-20 in Wakefield, MA will feature discussions on how to take your business to the next level. At the three-day conference, participants will have access to expert speakers, exhibitors, and sponsors along with training and education in the latest tools, technology, strategies and best practices to manage their business and their lives.
Content is an important part of any conference, and providing world-class content for women in business is one of the goals of the Unconventional Convention. "We have a wide variety of women from a diverse range of businesses coming together for this event. The remarkable professionals speaking at the convention are committed to sharing their expertise and experience with participants in a way that is entertaining and useful for application in the real world," says conference founder Janet Powers.
More speakers will be announced in the coming days. The seven speakers announced today are:
Stephanie von Hirschberg, Features Editor at MORE Magazine, will teach attendees how to write for the media, how to present themselves as the experts the media would want to use for their stories and how to attract more readers to their blogs.
Denise Evans, Vice President, Market Development, at IBM Corporation, is responsible for the strategy and leading the marketing to businesses owned by Asians, Blacks, Hispanics, Native Americans and women in the United States and women owned, led and influenced businesses globally. Ms. Evans will discuss what leaders do to succeed and how women entrepreneurs across the globe are the backbone of the global economy.
Mike Michalowicz, globally recognized entrepreneurial advocate; CEO of Provendus Group; small business columnist for The Wall Street Journal; television host of MSNBC's Your Business Makeover Series; speaker on entrepreneurship; will be teaching participants a one of a kind Pumpkin Plan Your Business Class based on his newest book, The Pumpkin Plan.
Francine Farkas Sears, founder & CEO of WIB; President & Owner of Fabrique; Notable Women in Business award winner; will share her real life experiences on how to start, market and grow a company that is profitable and sustainable in today's economy.
Shirley Singleton, Chairman, President and Chief Executive Officer of Edgewater, a technology management consulting firm will share with the audience a lesson in how to overcoming obstacles with leadership and integrity. Ms. Singleton's company has been recognized by the Commonwealth Institute as one of the Top 100 Woman-Led Businesses in Massachusetts for ten consecutive years, and Boston Magazine recognized her as one of the Top 100 Powerful Women in the Boston area.
Cindy Frené, founder of TransAction Associates, will share that leadership starts with you and how women in business must learn to know when to ask for help. TransAction Associates was named one of the Top 100 Women Led Businesses in Massachusetts.
Janet Powers, Women's Toolbox founder, will be sharing her own on-line success strategies, outlining how she successfully grew the Women's Toolbox to the premier on line destination for women in business.
Conference participants will gain practical knowledge, presented by peers and industry experts, on relevant issues that can be applied immediately to their business and life. In addition, their businesses will be promoted on the conference website and they will have the opportunity to meet other participants to collaborate and learn from.
To register online for the Unconventional Convention in October, visit the conference site at http://www.womenstoolbox.com/annualconference.
To become a sponsor contact Janet Powers at ceo(at)womenstoolbox(dot)com or call her at 877-424-DIVA (3482).
About the Women's Toolbox
The Women's Toolbox™, named by MORE Magazine as one of the top websites for women entrepreneurs, is the premier destination for women in business to learn, grow and succeed. Its tagline ("Within you lies the ability to do anything. Find it!") Illustrates its mission is to empower, educate, and entertain women. Led by Chief Executive Officer, Janet Powers, the organization offers its members a strong, supportive network and powerful voice. As its name implies, the Women's Toolbox™ provides a veritable toolbox for its growing member community of well educated and diverse women.