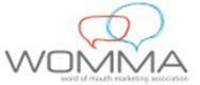 The new WOMMY Awards will honor practitioners who demonstrate superior creativity and problem-solving acumen
Chicago, IL (PRWEB) July 8, 2009
The Word of Mouth Marketing Association (WOMMA), http://www.WOMMA.org, announced today it is accepting submissions for the 2009 WOMMY Awards, which recognize creative thought and measured results that address business problems through word-of-mouth marketing (WOM) solutions.
"The new WOMMY Awards will honor practitioners who demonstrate superior creativity and problem-solving acumen," said David Rabjohns, CEO and founder of MotiveQuest, LLC and member of the WOMMA Board of Directors. "We look forward to receiving entries that celebrate all aspects of word-of-mouth marketing, on-and-off line."
"For an agency or brand engaged in word-of-mouth marketing, there is no higher award than the WOMMY. This award shows that your campaign has distinguished itself among the countless others in the market by not only getting people to talk, but creating real business value and bottom-line results in a credible, ethical and transparent way using WOM principles," said Chris Aarons of Ivy Worldwide, formerly Buzz Corps. "For Ivy Worldwide, winning the WOMMY for our campaign 'HP's 31 Days of the Dragon' helped establish us as one of the premier WOM agencies. In addition, the WOMMY has brought a steady wave of new business, fueling continued growth and enabling us to add new WOM capabilities to meet the growing demand, even in this down economy."
Candidates for WOMMY Awards must convey a clear description of the business challenge and show results of how the creative WOM approach solved the problem. Entries cannot exceed 1,500 words. Related creative materials are allowed with no more than 10 per entry (three per communications medium), and the maximum file size is 50 MB.
The final deadline for awards entries is October 5, 2009. All entrants must submit materials online at http://www.WOMMA.org, no other means of entry accepted. The entry fee is $599 for WOMMA members and $649 for nonmembers. Discounted fees are $399 and $449 if submitted by Aug. 8 and $499 and $549 by Sept. 9.
WOMMY Awards categories include:
1. Introduction Award: Best word of mouth program to introduce new products/services.
2. Momentum Award: Best word of mouth program to juice existing products/services.
3. Multi-National Award: Best word of mouth programming across nations/countries.
4. Experiential Award: Best word of mouth program as the result of great customer experience.
5. Integration Award: Best word of mouth program incorporated into overall marketing mix.
6. Engagement Award: Best word of mouth program fostering deeper relationships between brand and customer.
7. Research Award: Best strategic thinking to measure the impact/success of WOM.
WOM solutions implemented since January 2007 can compete. Entries that won 2008 WOMMY Awards cannot re-enter, but other 2008 entries can resubmit in accordance with the 2009 submission guidelines. WOMMA encourages brands and agencies to participate.
WOMMA will recognize Gold, Silver and Bronze award winners at the WOMMA Summit, Nov. 18-20, in Las Vegas. All winning papers will appear in the WOMMY Awards book, be presented on stage at the Summit, and abbreviated versions will be published in Advertising Age.
WOMMA, http://www.WOMMA.org, is the leading trade association in the marketing and advertising industries that focuses on word of mouth, consumer-generated and social media platforms -- or marketing techniques that include buzz, viral, community, and influencer marketing as well as brand blogging. The organization is committed to developing and maintaining appropriate ethical standards for marketers and advertisers engaging in such marketing practices, identifying meaningful measurement standards for such marketing practices, and defining "best practices" for the industry.
Founded in 2005, WOMMA currently has approximately 400 members. They include marketers and brands that use word-of-mouth marketing to reinforce their core customers and to reach out to new consumers, agencies that deliver word-of-mouth services and technologies, researchers that track the word-of-mouth experience and offline and online practitioners.
###