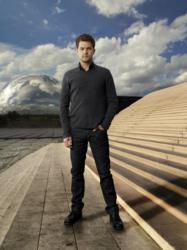 Observed in the OC! Joshua Jackson & Blair Brown cross over to join the @FRINGEonFOX panel/signing @WonderCon 2012!
Burbank, Calif. (PRWEB) March 09, 2012
All the way from the Other Side, Fringe stars Joshua Jackson and Blair Brown are crossing universes to the O.C. to appear at WonderCon 2012. Jackson and Brown will take part in the previously announced Fringe signing (12:00 Noon at the DC Entertainment Booth #501) and mind-bending panel session (1 p.m. in the Ballroom) on Sunday, March 18.
Jackson — who plays Peter Bishop, the alternate-universe–born traveler who's trying to keep two universes at peace — and Brown — who plays Nina Sharp, the closely guarded keeper of Massive Dynamic — will join series stars John Noble (Walter Bishop), Seth Gabel (Lincoln Lee) and executive producers Jeff Pinkner and J.H. Wyman for a Q&A session and a sneak peek of what is to come. With the fates of the fan-favorite characters hanging in the balance between two universes, two timelines and too many creepy bad guys to go around, look for the Fringe team to talk doppelgangers, shapeshifters, Observers and whatever Walter is cooking up!
Now in its fourth season, Fringe continues to explore new cases with endless impossibilities. From Bad Robot Productions in association with Warner Bros. Television, Fringe airs Fridays at 9/8c on FOX. Become a fan of Fringe on Facebook at http://www.facebook.com/Fringe and follow the show on Twitter @FRINGEonFOX.
For continuing information about the Studio's plans at WonderCon, please follow us on Twitter at @thewbdotcom. For complete details regarding Warner Bros. Television's panels at WonderCon, click here: http://bit.ly/A3vcFF
FRINGE SOCIAL MEDIA CONTACTS
TWITTER
Fringe @FRINGEonFOX
Lance Reddick @lancereddick
Jasika Nicole @jasikanicole
Jeff Pinkner @JPFringe
J.H. Wyman @JWFRINGE
FACEBOOK: http://www.facebook.com/Fringe
DOMESTIC PRESS: Lauren Townsend, Twitter: @laurenttownsend
###
Contacts:
Warner Bros. Television Publicity
Tammy Golihew, (818) 954-4855
Tammy(dot)golihew(at)warnerbros(dot)com, Twitter: @teeveegal
Tom McAlister, (818) 954-7222
Tom(dot)mcalister(at)warnerbros(dot)com, Twitter: @tom_mcalister
For Fringe
Lauren Townsend, (818) 954-1985
Lauren(dot)townsend(at)warnerbros(dot)com, Twitter: @laurenttownsend