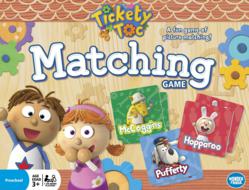 "Wonder Forge has an amazing track record for creativity in the game aisle," said Bob Traub, president of licensing for Established Brands.
Seattle, WA (PRWEB) June 14, 2013
Wonder Forge™, named one of Washington State's fastest growing private companies and a stand-out in the U.S. toy and game market, has recently secured game licensing rights to Tickety Toc through a multi-year partnership with Zodiak Kids, brokered by US licensing agent Established Brands. Tickety Toc, a breakout hit in the US, airs seven days a week on Nick Jr. The partnership is the latest in a string of hit properties secured by Wonder Forge that includes some of the world's most beloved children's brands.
Wonder Forge will debut its Tickety Toc Matching Game this fall through an exclusive retail partnership with Toys R Us, and will launch additional signature games in 2014. A multi-category consumer products program will launch in North America in Fall 2013 led by master toy partner, Just Play, and Home Entertainment partner, Anchor Bay Entertainment.
"We're always on the lookout for quality properties with engaging characters, themes and stories because they make for rich game play experiences," said Joel Berman, head of global business development and licensing for Wonder Forge. "Tickety Toc is just this kind of brand, and we are pleased to offer children and their families a whole new way to experience these delightful stories."
"Wonder Forge has an amazing track record for creativity in the game aisle," said Bob Traub, president of licensing for Established Brands. "We are excited to work with a company who takes such a thoughtful and high-quality approach to licensing and game development."
Tickety Toc features Tommy & Tallulah and their remarkable friends as they race against time to keep the clock ticking. Through Tommy & Tallulah's madcap adventures, Tickety Toc explores concepts of teamwork, social responsibility and problem solving in a fun and engaging way.
Wonder Forge was founded by CEO Jacobe Chrisman, former head of product development at Cranium games. The company launched in 2007 and today includes a product line of more than 80 games and puzzles, featuring cherished children's properties such as Disney Princess, Minnie Mouse, Jake and the Never Land Pirates, Dr. Seuss, DC Super Friends, Richard Scarry's Busytown, Angelina Ballerina, Curious George, Chuggington, and MythBusters. Wonder Forge has amassed more than 130 awards for game excellence and sells its products in 10 countries and counting.
1 Puget Sound Business Journal, 2010
###
About Wonder Forge, Inc.™
In 2007 a small group of creative folks with a passion for children's entertainment came together to develop extraordinarily fun, original, quality play experiences. Wonder Forge preschool titles celebrate the "can do" in all kids, engaging them physically, socially, and creatively. Our family games bridge generation gaps and build lasting family bonds. We are proud to now offer more than 80 games and puzzles, created in partnership with some of the industry's top licenses, and honored with more than 130 prestigious awards for product excellence. To learn more, visit http://www.wonderforge.com.
About Zodiak Kids
Zodiak Kids is the global independent leader in kids entertainment, combining Zodiak Media's dedicated kids production companies, consumer products and sales division. Zodiak Kids encompasses prominent production companies Marathon Media and Tele Images Productions (France) and The Foundation (UK). Sales for Zodiak kids are handled by a dedicated team within Zodiak Rights, one of the leading international distributors in the industry. All aspects of licensing are handled by a dedicated division with highly experienced teams based in London and Paris (Zodiak Kids CP London and Zodiak Kids CP Paris).
Zodiak Kids boasts one of the largest, high-quality kids catalogues in the world, which includes Totally Spies!, the international hit animation series; Tickety Toc, the new animated series; Waybuloo, the CBeebies pre-school hit; Redakai, a brand new series on Cartoon Network US; Mister Maker, the ultimate arts and craft show; Gormiti, based on the extraordinarily successful figurine range that sold over 100 million pieces; Street Football, one of the top rated animated shows in France and Italy and the newly launched The Ranch.
http://www.zodiakkids.com
About Established Brands
Established Brands is comprised of two distinctly different, but extremely complimentary disciplines. An impressive sales machine built on intimate relationships and access at the world's biggest and best retailers. And a team of marketing professionals focused on generating new revenue for brands that have the strength to extend beyond their core categories. Both work as one. This unique combination gives Established Brands an enviable advantage in the go-to-market process. Whether it's partnering with our stable of blue chip licensors or shepherding a national brand through the retail ecosystem we bring unequalled experience and integrity.