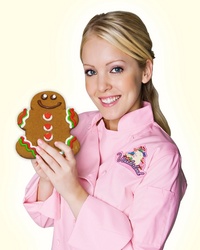 We are honored to be selected as 'Whoopi's Favorite Cookie,'
NEWPORT BEACH, Calif. (PRWEB) December 12, 2008
Whoopi was on a mission to find "The Best Gingerbread Cookie" that was reminiscent of her childhood memory of this classic treat. There was a coast to coast search and taste test with the final results broadcast on ABC's 'The View,' Wednesday, December 10, 2008. Whoopi officially declared 'Wonderland Bakery's Gingerbread Cookie' as her favorite.
"This is it!" says Whoopi "I wanted him (gingerbread cookie) to have that groove when you eat him. Wonderland made the cookie with the right combination of gingerbread and raisins, I love this cookie!"
It will be a very Merry Christmas for Wonderland Bakery with an endorsement from Whoopi on ABC's 'The View' which has an audience of 4.67 million viewers weekly.
Whoopi's cookie was created by 23 year old, Chef Allyson Ames, co-founder of Wonderland Bakery. The story is as sweet and satisfying as her delectable cookies, cupcakes, cakes and desserts. Wonderland Bakery is just three years old, but already the young company is spreading its wings with the expansion of the Wonderland Bakery Collection and a line up of products inviting aspiring young chefs everywhere to get in on all the fun with her 'Bake Memories at Home' collection including Red Velvet cupcakes, gingerbread cookies, fudgy brownies and sugar cookies.
The new Wonderland Bakery Collection also features its star: the soft and cuddly Allyson Wonderland Bear by Gund. The animated talking bear that tells the dream-come-true story of Chef Allyson Ames. Wonderland Bakery is the first-ever animated bear partnership with Gund, one of America's 50 most recognizable brands.
"We are honored to be selected as 'Whoopi's Favorite Cookie,'" says Ames. "Some of my best memories when I was young was baking with my mom and creating desserts for my friends. Now I am living my dream in Wonderland helping others celebrate with yummy treats including Whoopi and her family and friends."
In addition to setting trends in cupcakes, cookies and confections, Wonderland Bakery has built a strong brand and a loyal following. Expansion plans for 2009 whimsically crafted point of sale displays for nationwide retailers and airport stores. Each display will include bake at home mixes, aprons, tea sets, cupcake purses, clothing and the animated talking Allyson Wonderland Bear by Gund.
About Wonderland Bakery
Wonderland Bakery, in Newport Beach, Calif., is an enchanting bakery that specializes in cupcakes, cookies, cakes, artistic desserts and whimsical gifts. In only three years, it has become Orange County's "premier bakery for edible art" and destination of choice for a growing list of celebrities and locals. Named the official "Sweet Ambassador" of Newport Beach, Wonderland Bakery creates custom-baked goodies for any social celebration or business occasion, including logo cookies and gift tins for personalized corporate gifts.
For more information: 888 WB Cookie or http://www.WonderlandBakery.com
MULTIMEDIA GALLERY http://www.businesswire.com/cgi-bin/mmg.cgi?eid=5852983