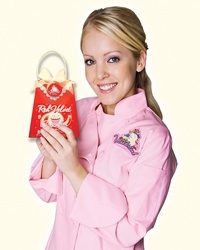 premier bakery for edible art
NEWPORT BEACH, Calif. (PRWEB) December 4, 2008
Founder, Chef Allyson continues to think 'inside the box' – inside the cupcake, cookie and brownie box. Her famous desserts that have become all the rage are now available Wonderliciously packaged to bake at home. "Some of my best memories are baking with my Mom and creating desserts for my friends," says Ames. "With families eating out less and watching their budget, our mixes help to create an 'indulgent homemade dessert' where everyone gets to be the artist and it is great fun for all ages too."
Whether a child is young enough to be content licking batter from a spoon or old enough to measure ingredients, baking is not only a great way to bond with children, it's also a way to develop math and verbal skills, improve confidence, create memorable family tradition and encourage creativity.
In addition to setting trends in cupcakes, cookies and confections, Wonderland Bakery has built a strong brand and a loyal following. Expansion plans for 2009 includes coast to coast presence with nationwide retailers, airport stores and high profile concierge locations with beautifully crafted point of sale displays. Populated with Wonderland Brand merchandise, each point of sale display will include bake at home mixes, aprons, tea sets, cupcake purses, clothing and the animated talking Allyson Wonderland Bear by Gund.
About Wonderland Bakery
Wonderland Bakery, in Newport Beach, Calif., is an enchanting bakery that specializes in cupcakes, cookies, cakes, artistic desserts and whimsical gifts. In only three years, it has become Orange County's "premier bakery for edible art" and destination of choice for a growing list of celebrities and locals. Named the official "Sweet Ambassador" of Newport Beach, Wonderland Bakery creates custom-baked goodies for any social celebration or business occasion, including logo cookies and gift tins for personalized corporate gifts.
For more information: 888 WB Cookie or http://www.WonderlandBakery.com
MULTIMEDIA GALLERY http://www.businesswire.com/cgi-bin/mmg.cgi?eid=5844845