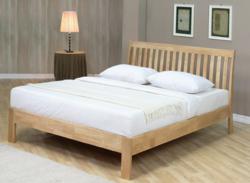 EcoFurn does great work across the globe so we are more than happy to stock their eco friendly wooden beds
Fife, UK (PRWEB) October 06, 2011
WoodenBedFrames.org.uk a British bed retailer continues to flourish a year after its launch and today is pleased to unveil a new range of eco friendly and sustainable wood beds in addition to this they have also re-designed their site using customer feedback to create a much improved ordering process that is quicker and easier to use.
The new eco friendly beds are made from a variety of timbers but all are sourced from sustainably managed farms. The Amalfi range is made from pine that is sourced and built from the same family owned company that manages the trees.
The Eco range was made by EcoFurn who are presently donating 10% of all profits to Tree Aid, a UK-based charity dedicated to enhancing forestry conditions in Africa. EcoFurn is an oak bed and cabinet manufacturer that is completely focused on environmental awareness; consequently, the company seeks to increase sustainable practices throughout the globe. Currently, organizations funded by Tree Aid support environmental projects in Burkina Faso, Ghana, Mali and Ethiopia.
Owner of WoodenBedFrames.org.uk Lee had this to say about their new range of environmentally friendly & sustainable beds, "These new eco friendly beds are competitive on price with our other mid range beds and EcoFurn does great work across the globe so we are more than happy to stock their eco friendly wooden beds."
A new look website that is easier to navigate and faster loading was developed by the in-house team headed by James Strong who said this about the new look, "Beds are a big ticket item and people like to shop as if they were dealing with us face to face, this new design makes that process a whole lot easier and quicker."
WoodenBedFrames.org.uk boasts a wide range of wood beds in a variety of sizes including single, double & king size. Pine, oak, ash, maple and mahogany beds are just a few types of wood beds on display. From contemporary classics to country charm they have a wooden bed for everyone.
To view their new look site please visit http://woodenbedframes.org.uk.
###