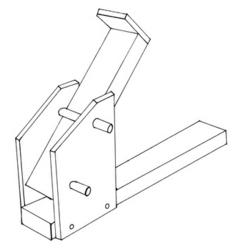 We aim to provide the best wood kits possible, at the best price and still make them right here in America.
Pasadena, CA (PRWEB) July 19, 2012
S&W Crafts, Mfg. offers wood crafts kits for children, plus a full assortment of Pinewood Derby® cars, parts and accessories. Its newest wood kit is the Catapult. With dozens of products to choose from, every youth organization, from day camps to summer camps to scouts to religious groups, will find something to fit their needs. Summer is upon us and more and more youth camps will be looking for crafts to make.
Wood craft kits are the staple of many youth activities and camps. Kits are grouped into themes such as: nature wood craft kits, Native American wood crafts, wood game kits, box kits, simple family gift crafts and rainspout regatta boats. Having a resource to fulfill a groups wood craft needs is key. That's where S&W Crafts, Mfg. comes in.
Ray Kathol, owner of S&W Crafts, Mfg. says, "Having wood craft kits pre-cut with rough edges, ready to sand, and packed in bulk gives children a rewarding and satisfying experience, at the same time, the buyer of the product saves money by having all the parts in one box with minimal to no packaging." Ray goes on to say, "The children come first. We aim to provide the best wood kits possible, at the best price and still make them right here in America." Some of the kit designs go back over 50 years, while others, like the wooden Catapult Kit, are new to the product line-up.
The catapult kit is a great new product with increasing demand in the market. It's all wood construction and simple design, powered by rubber bands, makes it a great choice for a wood project. Many youth organizations use catapults for science projects, competitions and just plain fun. S&W Crafts has taken the centuries old catapult and made it fun for kids.
S&W Crafts, Mfg. has been in business since 1957 manufacturing and selling our original Pinewood Derby Cars, accessories, tracks, awards and wood craft kits for children. All wood crafts and Pinewood Racers come in kit form ready to build. Since 1957 our Pinewood Racers have used the same wheels, screws and wooden dowel axles. S&W Crafts, Mfg. Pinewood Derby Cars® and craft kits are used by schools, scouts, church groups, camps, clubs and various youth organizations. S&W Crafts sends Pinewood Derby® Racers and 1000's of wood craft kits to every State in the U.S. and even around the world.
For more information about S&W Crafts, Mfg. and its products, please contact them at 626-793-2443 or e-mail info(at)pinewoodderbycars(dot)com.