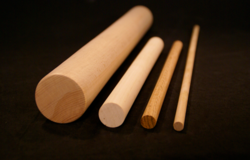 Westbrook, ME (PRWEB) March 29, 2012
According to Steve Parrish, Vice President of H.A. Stiles, "Anyone would be surprised by how prominent wooden dowels are. They're just about everywhere, and that's no exaggeration."
With this in mind, the Maine company has developed additional sourcing to increase production capabilities in order to meet the widespread demand for a product that exists in countless applications around the world.
For many years, wooden dowels have been used in an almost limitless list of applications. As Parrish explains, the widespread utility of wooden dowels leads to their common use for joining furniture and furniture parts, broom and mop handles, flag poles and sticks, and toys all the way down to skewers and small candy apple sticks. Citing the many uses for wooden dowels, Parish elaborates that H.A. Stiles has continually worked with their suppliers to improve processes, invest in new equipment, and upgrade existing equipment so the company can provide standard and custom wooden dowels for any application that needs them.
In addition to the ability to provide wood dowels with diameters ranging from 1/12" to 3" and stock lengths from 36" to 48" (and custom sizes as well), Parrish explains that the ongoing improvements made to the manufacturing processes and equipment allow H.A. Stiles to provide much more as well.
According to Parrish, the enhanced capabilities at the various manufacturing facilities extend beyond just manufacturing the actual wooden dowels, and include a substantial number of secondary operations as well. This allows H.A. Stiles to provide wooden dowels in virtually any configuration for unique applications around the world. "Whether that means a customer needs pointed dowels, rounded wooden dowels, drilled dowels, dowels that have been laser engraved, finished dowels, threaded dowels, stained or painted dowels or dowels that have been branded or pad printed – the many improvements allow us to do whatever the customer's needs require." For more information on wooden dowels from H.A. Stiles visit http://www.hastiles.com/wooden-dowels.html or call 800-447-8537.